Dixons store to sell Samsung 10in tablet early
Only place to get the Wi-Fi only version
Want a Samsung Galaxy Tab 10.1 a day before it launches? Then pop down to PC World on London's Tottenham Court Road on 3 August.
The retail giant is selling the tablet a day early. Well, almost. The ten-inch tablet will go on sale at 5pm.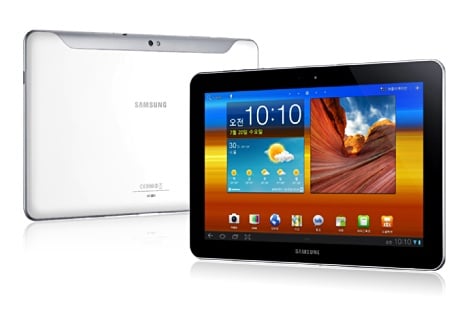 PC World will be charging £399 for the Wi-Fi only model, on which it has the exclusive for a month. So does Dixons' other chain, Currys.
The skinny, light - it's 8.6mm thick and weighs 565g - Galaxy Tab runs Android 3.1 Honeycomb on a 1GHz dual-core Nvidia Tegra 2 chip.
As the name suggests, it's a 10.1in tablet. The LCD screen has a resolution of 1280 x 800.
The Galaxy Tab 10.1 has 2.4GHz and 5GHz 802.11n Wi-Fi on board, Bluetooth 3.0, and front- and rear-facing cameras with 2m and 3mp pixels, respectively. ®
COMMENTS
no thanks
proprietary connections hooooo!
They seem to have run out of good ideas to nick from Apple and have now started to appropriate the things I dislike about them.
Your tablet is bad and you should feel bad!
Yup
I'm really hoping the AndyPad (and AndyPad Pro, which still comes in under £200) will be decent and enough of a success to kick-start the market for non-Apple fondleslabs.
In the meantime, a netbook is the way forward for 99% of users I think.
299?
I'd be baulking at 199 of her Maj's portraits. I mean, it hasn't even got the fobile moan chip in it.
7" Tab
The 2.3.3 update came out yesterday! Not very well publicised, plus you have to use Kies, and it wouldn't work from my 1.6 gig Sammy netbook, minimum spec is 1.8 gig processor. D'Oh! Fail!
That said the 2.3.3 update for the 7" Tab is a nice one.
I'll stick with my old HP laptop for proper work, my 10.2 Sammy Netbook for basic PC work, and my 7" Tab for everything when I'm out and about!
Still waiting...
...on 2.3 for this 7" 3G Tab.
No Samsung, "buy a new tablet" is not an acceptable answer. Especially not some ten inch giganto-slab that won't fit in a pocket.