Apple Mac OS X 10.7 Lion Part One
The mane event?
Out to launch
The differences between running OS X Lion on a notebook and a desktop computer became increasingly evident as my testing progressed. The most telling example was LaunchPad. This is an iOS-style way of launching programs from large, hovering app icons, which is fine alternative on the MacBook Pro to launching tiny program and alias icons littered around the Finder using an imprecise trackpad.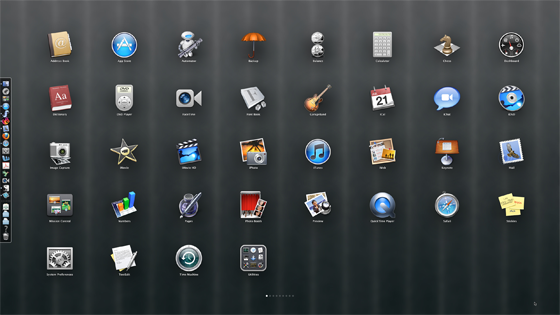 Do you like LaunchPad? Good, because I have another seven screenfuls just like this one
But over on my iMac, which has acquired quite a lot of software over the past couple of years, LaunchPad simply filled my 27in display with scores of icons… in fact, eight screens of them. Another website has compared this to playing 'Where's Wally?' with your programs. Me, I was shouting 'Where the fuck?' at my screen. Apple would have me organise all the icons into groups, like you do in iOS. I started doing that, but soon realised that it's a waste of time.
If I want to run Adobe InDesign CS5.5, I do not want to call up LaunchPad, flit back and forth between screens until I find a group called 'Adobe Creative Suite', click it to open it up and then hunt through the 20 or so programs in there to find InDesign, especially when I also have to distinguish between InDesign CS5, CS4 and CS3 on the same computer. It's far quicker to use Spotlight or a proper third-party launcher app.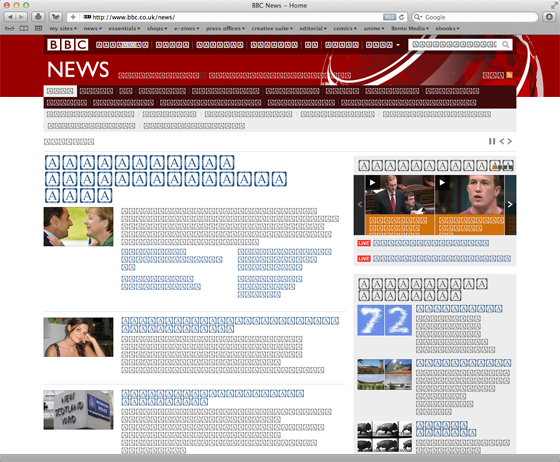 Wot not fonts? Safari's new 'Scouse' edition of the BBC News website
Then I made the mistake of running Microsoft Word, after which Safari decided to turn all my fonts into hieroglyphs. Fixing this problem took a lot of nervous cache-clearing (none of my usual font utilities are officially Lion-approved yet) and several restarts before Safari began behaving again. Note, however, Firefox was unaffected.
Maybe these various problems are due to my iMac suffering from too much nerdy Terminal abuse and unmoderated software acquisition, and what I need is to install a clean copy of OS X Lion - but how?
Sponsored: Minds Mastering Machines - Call for papers now open