Seagate beats Street, but outlook's bleak
Q4 results signal end of Golden Platter era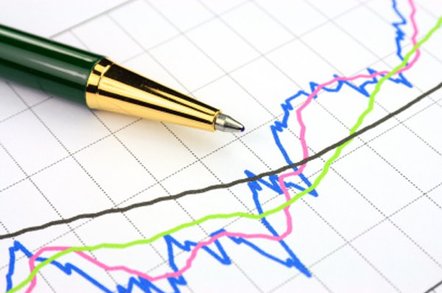 Seagate's 4th quarter results beat expectations, but profits are substantially down and cost pressures rising. It beat the Street but the outlook is bleak.
For its fourth fiscal 2011 quarter, Seagate's revenues amounted to $2.86bn – 7.5 per cent higher than the $2.656bn recorded a year ago. Net income went aggressively in the opposite direction, being $119m, 69 per cent lower than the $379m reported last year.
The full-year figures showed a downward trend as well. Total financial year 2011 revenues were $10.97bn, compared to $11.4bn a year ago, and annual net income was $511m, 68 per cent lower than 2010's $1.621bn. What's going on?
Before getting into that, let's complete the bad number news with Seagate's outlook for the next quarter: revenues should be $2.9bn and earnings-per-share between 29 and 33 cents, with Wall Street analysts hoping for 44 cents before the results announcement.
So much lower profits for the fourth quarter, and the full year, and expected in the next quarter too, plus revenue for the 2011 year is down.
Rare earth costs up plus manufacturing problems
Seagate's CEO Steve Luczo identified cost increases in rare earth minerals, noting a "recent dramatic increase in the cost of rare earth elements", as one contributor to lower profits. These are used in a disk drive's VCM magnet and in the drive motor.
But he also said Seagate had not been able to get recently launched products out of the factories in a cost-effective manner: "[There was a] delay in achieving time to maturity for new products."
The company is encountering areal density increase transition problems. In the earnings call, Luczo said: "It's a fairly significant transition that's occurring through this calendar year and into next calendar year. And it's related to areal density nodes as well different capacity points across almost our entire product line. So for Seagate, I think it's at least eight products that we're transitioning over the course of this fiscal year."
Bob Whitmore, the CTO, said: "As you push out the product transition, you end up changing the configuration quite a bit, which ends up in materials that are not utilised properly. They're either ending up in scrap or somewhere else that wasn't optimal. So that's what we're suffering through as we go through these transitions right now."
More platters and heads
The technology outlook for the near-term future is that areal density increases are not going to keep up with capacity demand. Here's Luckzo: "Petabyte shipments continue to grow at 40 per cent year-over-year, and I think most people in the industry would say that aerial density is somewhere in the 25 per cent [annual increase] range right now. And until you get a HAMR (Heat-Assisted Magnetic Recording) deployment or whatever the next big generation is to boost areal density, the only way you can solve that problem is with more heads in disks."
That means disk drives with additional platters and heads, which sends the unit component costs higher.
Luczo thinks the Western Digital+Hitachi GST combination will be a strong competitor: "Look, if the WD-Hitachi merger is approved, that's going to be an extremely powerful competitor that has a lot of revenue and deep technology, and they're going to drive areal density and product performance."
Hybrid drives and SSDs
Discussing hybrid (NAND Cache + spinning disk) drives, Luczo said: "We're still optimistic about it. I still kind of put my five-year view out there, that I believe for a variety of reasons, the vast majority of our products will be hybrid, whether or not that's NAND flash-related or whether or not that's areal density-related or whether or not that's performance related at the device level or at the system level..."
"I think you'll see systems launching over the course of the next year that are going to incorporate the hybrid technology, especially as we get closer to deploying multi-level cell-based technologies at the client level. That's obviously going to be a price point breakthrough that's going to be ... very significant in terms of the ramp on the product."
Seagate has just started shipping its latest Pulsar solid state drives (SSDs) and Luczo talked about ramping SSD shipments: "In terms of meaningful revenue, I would say that once MLC starts getting incorporated into the devices, which we do feel very confident about the approach that we're taking, I think that's when you're going to start seeing a pretty significant milestone to what I've been saying for a year, which is to me, it's a 2015, 2016 thing, where you could look at that and say there's hundreds of millions of dollars of revenue, sort of somewhere between 5 per cent and 15 per cent, of incremental enterprise business that is associated with SSDs."
On EMC he said: "I think on the customer side, the reality is it's for a limited customer base who's using SSDs in the enterprise segment. And I'll let our customers identify who they are, but I think you know who the majority one is and what their success has been. They've been probably leading the charge in terms of defining an architecture, presenting it to their customers and getting good traction. And that's an account that we're not engaged with, with the Fibre Channel drive."
It's clear that Seagate is missing out on SSD revenue now, but Luczo is not downbeat about it: "We feel good about our technology. We feel good about where we're at on our SAS drives. And obviously, with the relationship with Samsung, we believe that the NAND sourcing and cost side of that is going to be very attractive."
HDD glory days ending
Surprisingly Luczo says SSDs are not replacing disk drives: "There's not a disk drive in the world that, say, that can do what an SSD does. So it's not replacing disk drives, it's basically opening up new applications other than group drives, which I think happened three years ago."
Others might say this is like being in a state of denial, with 15K Fibre Channel drives being replaced by SSDs at an accelerating rate in storage arrays.
It's likely that the cost of the transition from current PMR technology to HAMR or BPM (bit-patterned media) technologies will dwarf Seagate's current transition costs. New flash fabs are being opened and cheaper MLC is coming, as Luczo pointed out.
The glory days of the spinning disk drive industry are over. It's going to be harder and harder to make good profits from spinning drives and Seagate faces powerful competition from Western Digital. It thought it had an areal density advantage six months ago and that, due to product manufacturing ramp problems, has turned out to be illusory.
Seagate's future is uphill from here, trying to squeeze good profits from costlier and costlier technology, with SSD technology poised like a hammer overhead. It's grit your teeth and grind out the drives time. Fortunately there is only one real competitor to worry about and it, all in all, faces pretty much the same problems. ®
Sponsored: Minds Mastering Machines - Call for papers now open