Rupert Murdoch was never Keyser Soze
Childish media and creepy politicians created this myth
Loss-maker
Two years ago, the group lost $5.6bn in 2009, on revenue of just $30bn. Every one of Murdoch's UK newspaper properties lost money, even such long time cash cows such as the Sunday Times and the NoTW.
The Pay-TV operation BSkyB is only now making tidy profits for its shareholders, the largest of which is News Corporation of course, but only on the back of 20 years of massive, bet-the-company borrowing. BSkyB's subscription revenues have grossed £3.9bn in the nine months to March; Google's will be around £2.5bn this year, significantly larger than ITV's. It is not so far behind.
The much-feared Fox News is mostly ignored by Americans: with 5.3 million viewers last year, it is twice as large as the Bloomberg financial channel, and half the size of CNBC. Most of Fox's splenetic stories get no traction in the rest of the US press.
In the UK, the BBC is still the 800lb gorilla, dominating news consumption. Most people, over 70 per cent, get their news from TV. The BBC dominates TV news with 63 per cent reach, and this is where news is most trusted. And according to the University of Leicester, almost all of the increase in current affairs output last year was viewed on the BBC. Its dominance grows.
Leicester researchers also found that news consumption grew fastest amongst the 18-23 and 24-34 age group, largely thanks to the internet. And that's where the Murdoch "empire", after failing to keep pace, has now given up competing for large audiences. The paywalls have gone up, ensuring its reach won't grow. News Corp's audience loss has been the BBC's gain.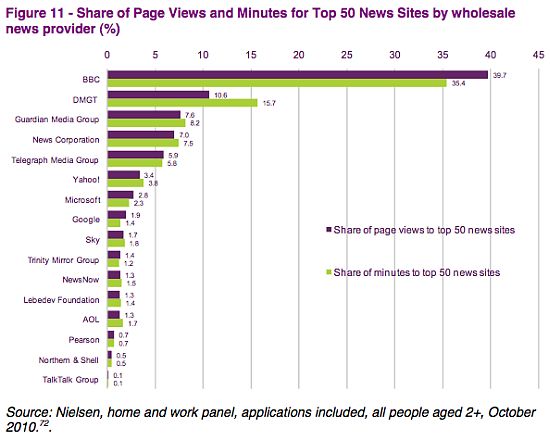 The tinfoil hat argument then turns to cross-ownership. But when Ofcom examined the overlap between popular consumption of Murdoch papers and Sky News, when BSkyB Murdoch swooped for £940m of ITV shares in 2006, it found that barely 15 per cent absorbs both.
And let's not forget that the Competition Commission ordered Murdoch to sell this stake; that Murdoch declined to buy Channel 5, when News Corp could have done so for a quid. Or that it is bureaucrats, not James Murdoch, who ultimately set the wholesale price of the right to broadcast sports events that Sky has acquired on the open market, and the terms under which it must wholesale these rights. Ofcom is now looking into Sky's acquisition of first-run movies. If Sky is a beast, it's a shackled beast.
I'll pause the mass of stats to reiterate the point behind them. There is no reason politicians went beyond a cordial relationship, and had to keep tugging their forelocks. The real Murdoch was under control. Yet the Mythical Murdoch had a life and power of its own, one that existed in their imaginations.
There's a consequence to all this which hasn't been mentioned. Organisations that decided that the Murdoch Empire was "evil" (rather than a savage competitor) began to see themselves as "good".
This has manifested itself in some interesting ways.
Sponsored: Minds Mastering Machines - Call for papers now open