Vodafone Smart Android smartphone
Budget Googlephone, anyone?
Review You can argue all you want about the merits of the various mobile operating systems but it's undoubtedly Android that has put smartphones into the hands of the impecunious masses and in numbers that would have been inconceivable just eighteen months ago.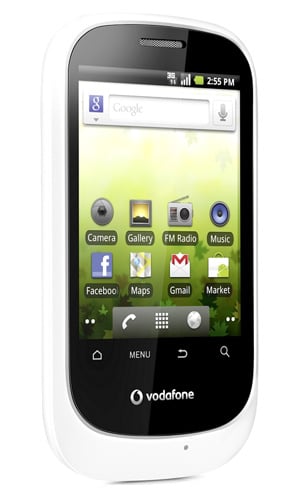 Tidy price: Vodafone's Smart
The new king of the cheap charlies is the Vodafone Smart or Huawei U8160 to give it its manufacturer designation. This pound shop special runs Android 2.2 and has a capacitive screen but will only set you back £75.
That's nearly 20 per cent less than the price of the Orange San Francisco, né ZTE Blade, which will lighten your wallet to the tune of £99 plus a mandatory £20 credit (£119 altogether). Buy online and Vodafone doesn't demand an airtime purchase as a condition of sale.
Naturally, certain sacrifices have been made to get the price that low. The screen only measures 2.8in corner to corner, the pixel count is a meagre 240 x 320, the chip ticks over at just 528MHz and only has 256MB of RAM to play with.

Lightweight, but a little on the chunky side
Storage is an equally slight 512MB of which only around 130MB is available for apps though you can eke this out by dumping larger applications onto the 2GB MicroSD card that Vodafone supplies.
Cheap the Smart may be, nasty it's not. To start with it's rather well made - albeit entirely of plastic - and rather stylish. The on/off button at the top and the volume rocker on the right are both solid and easy to use and the 3.5mm audio jack is at the top, where it should be.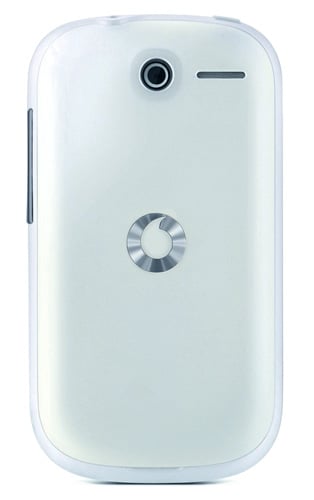 Alas, only a 2Mp camera which needs ideal conditions for decent snaps
The micro SD card lives under the battery but that is something I suspect most people can live with. At 104g it's one of the lightest smartphones around and only two-thirds the size of the HTC Desire HD I normally carry around with me.
COMMENTS
OSF is 77 UKP
If you can give a current PAYG Orange number at time of purchase.
tesco direct offered the OSF for 99UKP (nothing about buying airtime) but changed to 110
with included airtime.
the OSF is now an *old* phone -worth ~70 quid but not worth ~100.
@ Jemma
"I have said it numerous times before and I will probably say it numerous times again. A phone is a phone is a phone. It is a working tool. Its a device that can and has saved lives"
You can say it as often as you like, that doesn't make it true. A large percentage of smartphones are not used primarily as "phones" but as pocket computers, media players and data communications devices.
If you want a phone as an emergency device - I wonder how mankind survived without them - get a Nokia C1-01 or similar with a stand-by battery life that can be measured in weeks.
"Likewise, graphics-heavy gaming is out of the question"
Angry Birds is graphics heavy?
A 500+Mhz CPU with 256MB cant handle a puny 2D-game@320x240?
Time fire fire up that 'ol 33Mhz 486 with 4MB RAM and play some lowly-graphics DOOM ...
And that's ignoring
that they owed over £6bn of tax but fought so hard HMRC wrote it off. Life would be very different if they (and others) paid what they legally owe.
One of many links: http://boycottvodafone.com/?page_id=14
The title is required, and must contain letters and/or digits.
Orange San Francisco is easy to SIM unlock and root, and you can install Froyo on it (I have). I use it on the 3 network. You can get plenty of custom ROMs from the modaco forum for it.
It can run Angry Birds, although it stutters a bit.
By the looks of it, it's definitely worth more than this Vodafone phone. I'm not saying the Vodafone isn't good; it sounds OK; but the OSF is clearly better.
What phone is better for around £100?
Thanks for telling me it's £77 if you can quote a current PAYG Orange number though; that gives me an idea for a birthday gift for my mother!