Clouds and server refresh pump up Intel
Data Center Group carries its weight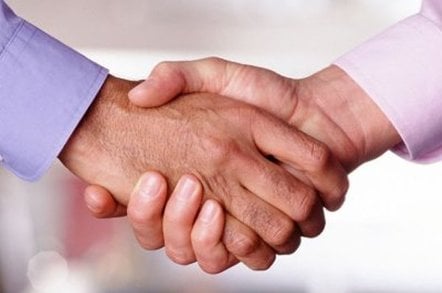 The server business went great guns again for chip giant Intel in the second quarter, with its Data Center Group raking in $2.44bn in revenues, up 15.2 per cent from the year ago period.
The Data Center Group makes chips, chipsets, and motherboards for servers, workstations, storage arrays, and wired networking gear, with the latter two being engines of growth for Intel over the next four years. The company believes They'll eventually allow it to double annual revenues to around $20bn.
In the second quarter, the Data Center Group posted just over $2bn in microprocessor revenues, up 14.3 per cent over Q2 2010, while chipset, motherboard, and other product revenue accounted for $382m in sales, up 20.5 per cent. Operating income for the Data Center Group was a very healthy $1.2bn, but up only 13.5 per cent and trailing revenue growth a wee bit.
Overall, as El Reg previously reported, Intel had $13.1bn in sales in the second quarter, a record high for the company, and had an operating income overall of $4.2bn and net income of $3.2bn. Operating income for the Data Center Group is 49.4 per cent of revenue, while it is 32.1 per cent across the whole company. Clearly all those server chips help Intel throw off the cashish.
In a conference call with Wall Street analysts after the market closed Wednesday, Intel president and CEO Paul Otellini said that the demand for the "Westmere-EX" Xeon E7 processors, launched in April for servers with two, four, and eight sockets, was "very healthy" and helped push up server chip and chipset ASPs in the quarter.
Otellini added that processor shipments from the Data Center Group to non-server OEMs was "growing at an exceptional rate", with CPU shipments to storage OEMs increasing by 38 per cent compared to the year ago period, and shipments to network equipment makers up 40 per cent. That said, shipments of CPUs to traditional server makers peddling boxes to hyperscale cloud computing providers rose even faster, at 50 per cent year on year.
"We believe that we are very early in the cloud buildout," explained Otellini, "and that Intel remains extremely well-positioned to profitably grow from the explosion of mobile devices and Internet-based services."
Intel is widely expected to launch the "Sandy Bridge-EP" and "Sandy Bridge-EN" Xeon E5 processors for the "Romley" server platform in the third quarter, but Otellini would not be drawn out on when the machines would debut with the new chips. He said that Intel has said that it would ship these Xeon E5 processors and their related chipsets before the end of the year and will not be more precise about the launch date.
Thomas Siefert, Interim CEO at Advanced Micro Devices, said when the company reported its first quarter financials in late April that Opteron server processors based on its "Bulldozer" cores would come out in the late summer. Vlad Rozanovich, director of the enterprise and public sector business at AMD, told El Reg a few weeks prior to this that the plan was for the 16-core "Interlagos" processors to ship to OEMs for revenue in the second quarter, with the launch sometime in the third quarter.
It is a safe bet that AMD wants to be a spoiler and launch ahead of Intel's Xeon E5s and their Romley platform, but then again, no one is going to make a decision on a two-socket or four-socket server until they see what the Xeon E5s have to offer, so there is not much to be gained from being a spoiler by a few weeks.
AMD reports its financial results for the second quarter today and could – but probably won't – shed some light on the Bulldozer rollout. ®
Sponsored: Minds Mastering Machines - Call for papers now open