Toshiba Satellite P775 17.3in Core i7 laptop
The Young Ones' notebook?
3D plus BD
Optimus' goal is to use the discrete GPU only when necessary, to reduce energy consumption. But since since the P775 is a desktop replacement, how much pummelling is its 4200mAh battery likely to get? Able to keep the laptop going for an hour and a quarter, the power pack is more a token addition than a statement of mobility. Most folk will use it plugged into the mains, but I suppose Optimus will reduce their electricity bills a wee bit.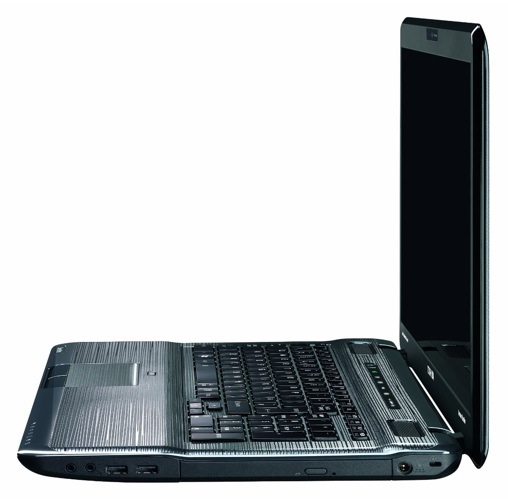 Blu-ray on the right-hand side...
The Nvidia chip is also 3D capable, but I couldn't test this because Toshiba didn't supply any glasses Actually, there are no specs because the P775 is designed to leave displaying 3D to an HDMI-connected TV.
Judging by the P775, Tosh's attitude to 3D seems lukewarm: it may have included a few of 3D film clips, but there's no bundled software to play them with. Nvidia's 3D Vision Player, which can handle the files, has to be downloaded first. Sloppy, Toshiba - even if users double-click the shortcut to download it, they'll end up at Nvidia's driver download page, where there's no mention of 3D Vision Player. I only found it through a site search.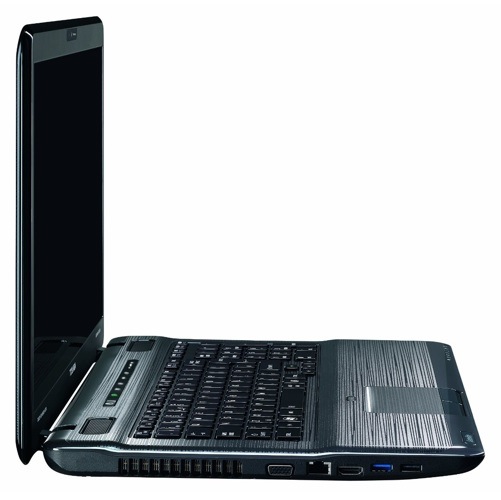 ...SuperSpeed USB 3.0 on the other
Toshiba does bundles an own-brand player, but it can only handle MPEG 4 3D files and 3D Blu-ray discs, not the samples included on the P775's hard drive.
Other content can be downloaded from Places, Toshiba's new online music, movies and games shop. Designed for Media Centre use, the P775 also comes with a wee remote control. Older versions of the P775 had a built-in TV tuner - the new one doesn't.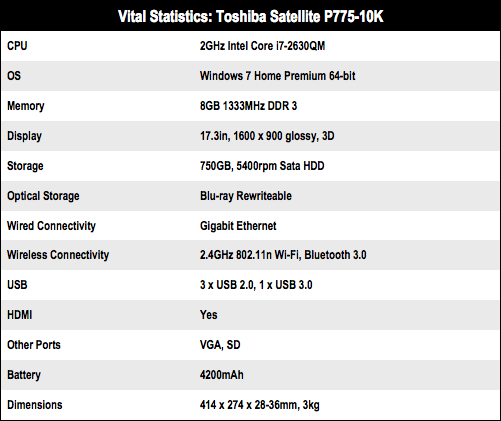 Sponsored: Minds Mastering Machines - Call for papers now open