Apple to release Mac OS X Lion on Wednesday
Unnamed 'future product transition' coming soon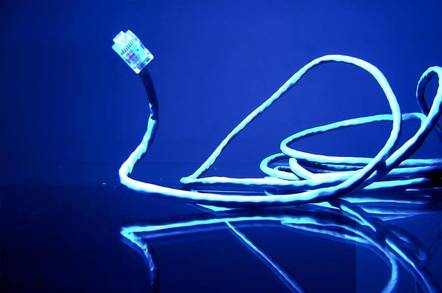 "We are very excited to be launching Mac OS Lion tomorrow," Apple CFO Peter Oppenheimer told reporters and analysts during a conference call on Tuesday, when discussing his company's most-recent financial results.
If you plan to install "Here, kitty, kitty, kitty" on Wednesday, do remember to first upgrade Snow Leopard to version 10.6.8. And do let us know if your download helps grind the Mac App Store to a halt as millions of Mac users attempt to simultaneously download what's sure to be a hefty package.
During the call, Oppenheimer also alluded to what he called a "future product transition" in response to a question about why he was projecting less than expected – and less than seasonal – revenues for Apple's next fiscal quarter, ending in September.
"We have a lot going on in the fall, with the introduction of iOS 5 and iCloud. We also have a future product transition that we're not going to talk about today," he said with emphasis, "and these things will impact our September quarter."
With his emphatic not, Oppenheimer shut the door on any discussion as to what that "transition" might be. One can assume, however, that the oft-rumored iPhone 5 is the speculative front-runner.
But speculation as to whether the iPhone 5 will be joined by a lower-priced sibling may have been given a bit of juice when one analyst reminded Apple COO Tim Cook, also on the call, that recent surveys have shown that the iPhone lost market share year-on-year in the UK, Germany, France, and Japan, and that many market projections show that sales of smartphones over $300 are going to grow "a lot slower" than less-expensive phones worldwide.
"Share gain is important," Cook admitted. "Anywhere where we're going the opposite way, we're not happy and you can bet that we're working hard to change that."
iPhone 4 demoted?
But "working hard" does not necessarily mean that engineers are currently slaving away in some Cupertinian skunk works to fashion a less-expensive sibling for the soon-to-be-top-of-the-line iPhone 5.
"In terms of playing at different price points," Cook said, "we do offer the 3GS, as an example, today. In the US it's $49 with a contract." Pricing varies in different markets, he said, but noted that the 3GS is "clearly in a distinctly different price than the iPhone 4 is."
Well, in a different price point today. Come the "future product transition", the iPhone 4 may step into the iPhone 3GS's runner-up status. Or it may simply disappear, and be replaced by the ever-elusive "iPhone nano" – or some such – that keeps being resurrected by rumoristas.
Cook also attempted to convince his listeners that price point targets aren't the main engine of Apple's product development. "Our philosophy is the same that it has always been," he said. "We will only make products that we're proud of, that are the best in the world. And if we can do that, and the price is lower, then we're great with that."
As an example, Cook gave the iPod shuffle. "It started at a different price point, but it's now at $49. That's because it's a product that we're very proud of."
He was, however, straightforward enough to admit that although products are important, so is marketing. "It's up to us to convince people to maybe spend a little more for a materially better experience and product – and we've seen that people will do that if the product is great and if it is messaged appropriately," he said. "And we've got a lot of experience in both of those areas." ®
Bootnote
Remember that $65.8bn nest egg of cash plus short-term and long-term marketable securites that Apple was sitting on at the end of its previous quarter? That pile has now grown to $76.2bn.
Sponsored: Minds Mastering Machines - Call for papers now open