Asda offloads affordable Archos fondleslabs
Tablets for budget shoppers
Supermarket chain Asda is offering a low-cost tablet so folk on a shoestring can now pick up an 8in model for less than £100.
The Archos Arnova 8 tablet is slightly behind the curve in tech-terms, running an outdated OS, Android 2.1 Éclair, on an 800 x 600 resistive touchscreen.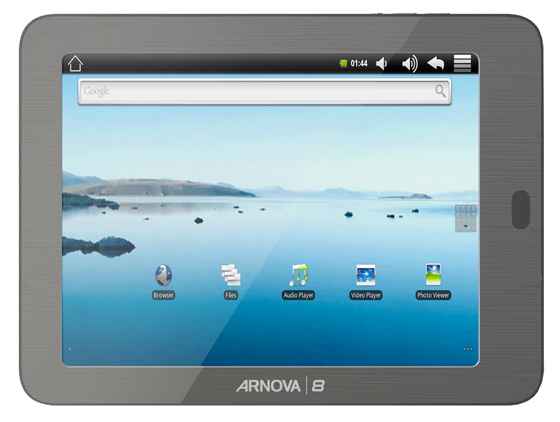 The slate features built-in Wi-Fi and 4GB of internal storage, with further expansion through a Micro SD slot. It also boasts 25 hours of music playback battery life.
Archos now offers the Arnova with a more recent version of Android and with a capacitive touchscreen.
Asda has offered budget tablets in the past, including the Elonex e-Touch, which went on sale last year for roughly the same price.
So if you're after an affordable fondleslab and don't mind the dated tech, Asda is the place to be. Grab an Arnova 8 for £99. ®
COMMENTS
Alternatively
If you are interesting in buying one why dont you do some legwork you lazy tosser.
Re: More bad news for Android
The people who buy this will buy it for the price not features, they will not buy Apple.
ooh, get her!
wrong side of bed this morning, mr. touchy?
Perfect for the kids!
Given the choice of giving this or a £500 iPad to a 6 year old to play with, I know which one I'll go for!
If you're still wondering why, you've obviously never seen the bizarre substances that kids manage to summon from the bowels of Hell and, using just their dainty little pinkies, proceed to smear all over the front of any given touch screen device!
@Gordon
Yeeers... that's right.
A website is reviewing/previewing/???/telling us about a new product on the shelves.
Someone asks for more information.
Idiot Gordon replies saying do it yourself idiot tosser.
Something tells me Gordon is a grumpy arsehole this morning?