Oz DNA tester's privacy shocker
Some people shouldn't be let near Web servers
In a facepalm, forehead-slap, hang-your-head-in-shame howler, South Australian DNA testing company Medvet has left its online customer accounts system open to being indexed by Google.
As reported by The Australian, the search engine's crawlers have dutifully recorded customer invoices including addresses and, in some cases, names.
Medvet's managing director is reportedly seeking information from the company's software supplier, rather than staging a public hanging of whoever set up robots.txt on its Website.
Although the SA government-owned company is trying to take action, it seems at sixes and sevens about what to do, telling the Oz it would conduct a full "security vetting" of the system, but not mentioning whether or not it would get in touch with Google to ask whether the search results can be removed.
At the time of writing, The Register was able to confirm that the search results remained in the Google cache (below).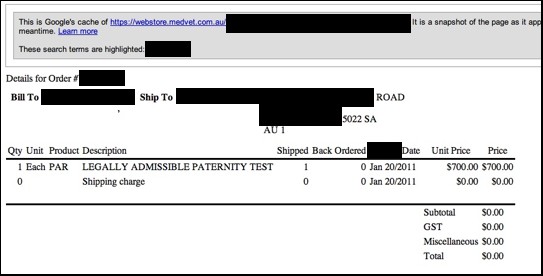 Redacted version of Google cache results for Medvet.
Even without names, the privacy breach is disturbingly creepy: "That's my address, but I didn't order a paternity test / drug test - who did and why?"
While no test results appear in the searches, the privacy breach is serious enough for Australia's Privacy Commissioner Tim Pilgrim to launch an investigation.
According to The Australian, Medvet was first told of the privacy breach in April. ®
Sponsored: Minds Mastering Machines - Call for papers now open