Yuri Gagarin, legendary 'naut, makes London debut
First orbital human joins Captain Cook on the Mall
A statue of Yuri Gagarin has been unveiled by the cosmonaut's daughter, Elena Gagarina, in London.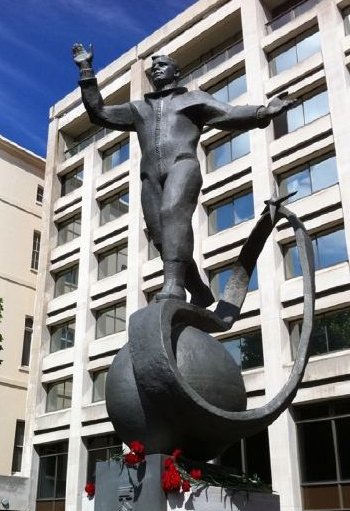 The legendary cosmonaut was the first human being to orbit the planet Earth, back in 1961. He died only 7 years later in an accident during a routine flight in a MiG-15 fighter jet.
The statue stands near the British Council, just off the Mall by Admiralty Arch, and is a copy of one in Lubertsky – where Gagarin trained as a foundry worker. He was invited to tour the UK after his flight by the National Union of Foundrymen. Gagarin's statue stands opposite that of equally-famous British explorer Captain James Cook, who favoured sailing ships for his voyages rather than space capsules.
The zinc-alloy figure stands 3.5 metres high.
The head of Russian space agency Roscosmos, Vladmir Popovkin, said:
"Russians are very proud that [Gagarin] was Russian, but if you look at it more philosophically – he was a delegate from the whole world to space. He reminds us how we must be together in the exploration of space."
The Russians' press release is here. ®
Sponsored: Minds Mastering Machines - Call for papers now open