Sony launches 3D adverts channel for Bravia tellies
Are 3D TV owners really so desperate for content?
Not to be outdone by Samsung, Sony has rolled out a 3D video-on-demand channel for its Bravia TVs.
Dubbed the "3D Experience", the channel will be pre-installed in 3D-capable Bravias bought from today. If you already own one, there will be a "refresh internet content" update shortly.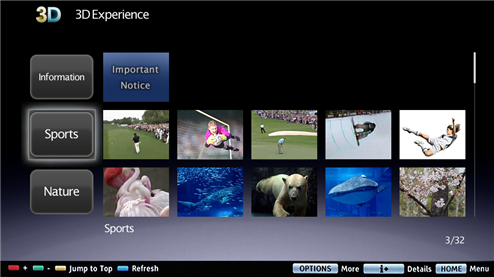 A similar update for Blu-ray players and home theatre kit us coming soon too, Sony said.
The downside is that all the channel is flogging are "promotional video clips", so it will be fine if you need something quick to wow chums who've popped round to gawp at your new 3D TV, but not to sit back and enjoy yourself.
Samsung's 3D VoD service at least holds the promise of 3D films you can stream, albeit at a price.
Sony did promise that Wimbledon 2011 highlights will be added soon, but until then viewers will really only be treated to adverts. ®
COMMENTS
Re: Other than the BBC
You're joking, right? The BBC spend a huge amount of time advertising. They advertise BBC programmes, BBC websites, BBC iPlayer, the full range of BBC magazines, other BBC channels, BBC Radio, BBC DVDs, text services, competitions, Glastonbury, T in the Park etc. etc. etc.
RE: Just like Freeview?
I'm going to hazard a guess that, like most people, you usually "flick through" during an intra-show or inter-show ad break? In case you've not been paying attention, programs /usually/ start and end at the same time, as do their ad breaks. No I'm not remotely surprised.
A central 3D hub for users.
Sounds like Central Station on PS2 which was an online news portal accessible from the console. There was very little content on there and it was updated infrequently. That's likely what we'll see here. Very few people will access it so sony won't update it while it will become just a no-where selection taking a slot on the menu and a binary slot.
Re: You're joking, right?
The beeb don't generally interrupt a programme repeatedly in order to sell you stuff. How many ad breaks does the average US channel manage to squeeze into a nominally 30 minute programme?
Just like Freeview?
A channel full of adverts? We're nearly there now. Other than the BBC channels I've managed to flick through the entire range of Freeview TV channels, hitting nothing but fecking adverts, on many an occasion!