LG debuts eye-tracking no-specs 3D screen
Monitor in 'interesting story' shock
Monitor stories are usually zzzzz, but here's an interesting one for a change: a glasses-free 3D screen that tracks your eye movements to ensure, it's claimed, you always see a perfect picture.
The kit comes from LG, and its called the D2000. It's a 20in panel and uses a parallax barrier to separate out left- and right-eye images.
A number of vendors - Toshiba most notably - are developing 3D TVs based on parallax barrier technology. Its downside is the imposition of fixed viewing points beyond which you can't see the 3D image.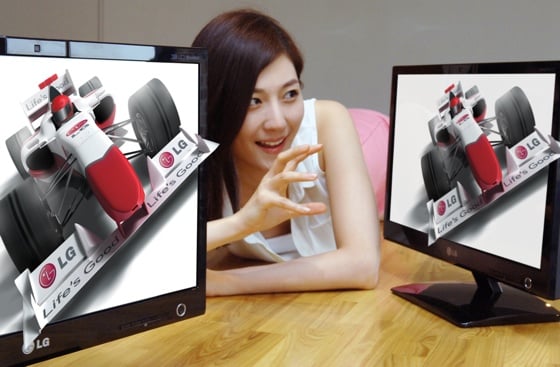 LG admitted its eye-tracking system doesn't eliminate that limitation, but the company maintains the technology does minimise the problem.
A camera watches the viewer's eyes, and on-board software tracks their movement, using their position and viewing angle to adjust the image in real-time so the 3D image remains intact.
So if you find yourself physically ducking your head to avoid that incoming missile, the scene shouldn't go to pants just because you moved your eyes out of the sweetspot.
Alas, LG didn't provide any pics of the D2000 in action, only a standard shot which looks like almost every other monitor you've ever seen. It wouldn't be 3D, but at least it'd be something.
Of course, it's a lot easier to do this with a monitor, a screen predicated - unlike a telly - on a viewer's face being very close to it, but there's no reason why the technology can't be adapted to large TVs.
The D2000 goes on sale in Korea this month, but will be introduced to other countries toward the end of the year. ®
Sponsored: Minds Mastering Machines - Call for papers now open