HP TouchSmart 610 touchscreen all-in-one PC
Quite literally, laid back
Pointing the finger
HP has chosen to distribute the I/O ports between the left-hand side and rear of the main unit. The left-hand side gives access to a pair of USB ports, a multi-format memory card slot and a pair of headphone/line-in sockets. The remaining ports are hidden behind a plastic cover at the rear, along with the power-in socket: another two USB 2.0 (one already used for the remote control handset), gigabit Ethernet, TV coaxial, two HDMI, and three sockets for Beats audio.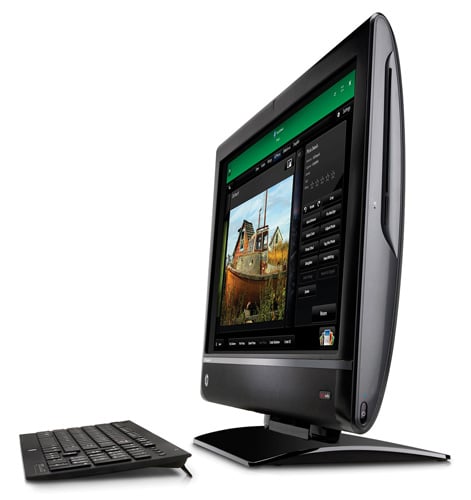 The slot-loading optical drive on the right-hand side plays Blu-ray discs and burns DVDs and CDs
You even get a pair of USB 3.0 ports. At a time when USB 3.0 devices are still rare and specialised, HP reckons an owner of a family computer may want to connect two of them. Gosh, I'm seriously behind the envelope compared with those bleeding-edge home users.
The touchscreen on the TouchSmart 610 is just right in terms of pressure and response, although like any touchscreen, it responds best to direct touches and confident sweeps rather than jabbing and flicking. You can stumble your way through most of the media software that make use of the touchscreen, but Windows 7's two-finger zoom and rotate requires a bit of practice to get right. The TouchSmart's sensitivity can work against you at first, leaving users baffled as they try to rotate a photo in one direction, only for it to swivel round in the opposite direction.
On this note, HP's Magic Canvas program is a little disappointing. Intended as a kind of live media pinboard where you can post messages, pictures and videos, it plays everything in situ rather than blow it up to full-screen when you tap on an item. Nor does Magic Canvas send an item to another program for more flexible playback.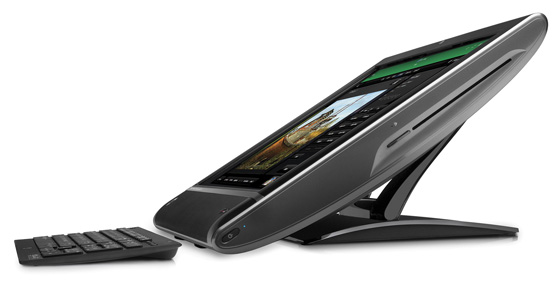 Yes, it looks silly, but this angle is absolutely ideal for touchscreen use
The most striking feature of the TouchSmart 610, though, is the central stand that allows the display to be slid-and-shuffled (rather than leant) backwards to a 30-degree angle. Despite what you think, this makes this TouchSmart even more fun to use because using the touchscreen is all the more comfortable this way. It is strongly reminiscent of using a Wacom Cintiq graphics tablet as you casually trace away on a gently angled digital drawing board.
PCMark Vantage Results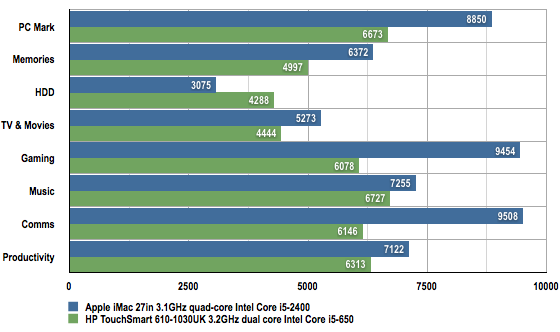 Sponsored: Minds Mastering Machines - Call for papers now open