NASA 'nauts wrap last spacewalk of shuttle era
Clapped-out ISS ammonia unit stowed aboard Atlantis
NASA 'nauts Mike Fossum and Ron Garan have wrapped the last spacewalk of the shuttle era, during which they successfully stowed a clapped-out International Space Station ammonia pump in Atlantis's cargo bay.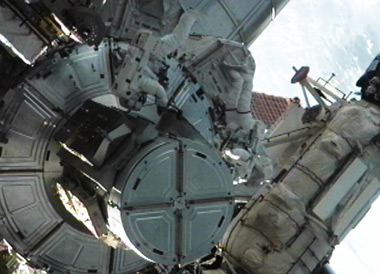 The pump is the same unit which failed at the end of July last year, knocking out half of the ISS's cooling system. Spacewalkers Tracy Caldwell Dyson and Doug Wheelock heroically battled the troublesome device, eventually replacing it with a new box and leaving the dead kit outside the station for later retrieval.
During today's 6 hour, 31 minute EVA, Fossum and Garan also installed the Robotic Refueling Mission (RRM) experiment onto a platform on the Special Purpose Dexterous Manipulator, aka Dextre.
NASA explains: "In the future, the RRM will demonstrate robotic refueling technology and techniques using Dextre, four unique RRM tools and an RRM enclosure filled with refueling components and activity boards.
"The tests will demonstrate that remote-controlled robots can perform refueling tasks in orbit, using commands sent from controllers on Earth. RRM is expected to reduce costs and risks, and lay the foundation for future robotic servicing missions."
To wrap their excursion's major tasks, the pair installed the Optical Reflector Materials Experiment, part of the Materials on International Space Station Experiment - 8 (MISSE-8), which is designed as "a test bed for materials and computing elements" which are "evaluated for the effects of atomic oxygen, ultraviolet, direct sunlight, radiation, and extremes of heat and cold".
There's more on Atlantis's swansong STS-135 mission right here. ®
Sponsored: Minds Mastering Machines - Call for papers now open