Samsung RF711 17.3in Core i7 laptop
Sandy Bridge heavyweight
Spatial awareness
Ergonomics are good, which is fair considering the amount of space on offer. The keyboard, for example, is nicely spread out across the width of the base and you'll have no trouble getting up to speed. It's also a solid, if slightly hollow-feeling, affair. Spreadsheet users will also note the number pad on the right hand side.
The numeric keypad will please some, the offset trackpad will annoy others
The whole thing could do with being a bit more spread out: the number pad is right next to the main keyboard, which is fine, but the arrow keys below get lost in the cluster. The trackpad is offset relative to the main body of the machine and is a reasonable example, although the click of the buttons could use a little refinement.
As is fitting for a machine designed to replace your desktop, the RF711 has a decent cluster of ports. Those with external peripherals aren't ignored - two USB 2.0 ports on the left hand side are complemented by a USB 3 port on the right edge, and another USB 3 port on the back.
Those who have made the transition to digital displays get an HDMI port and – helpfully for those lumbered with legacy monitors and projectors – there's a VGA port on the same side. Photographers are catered for by an SD card slot along the front edge.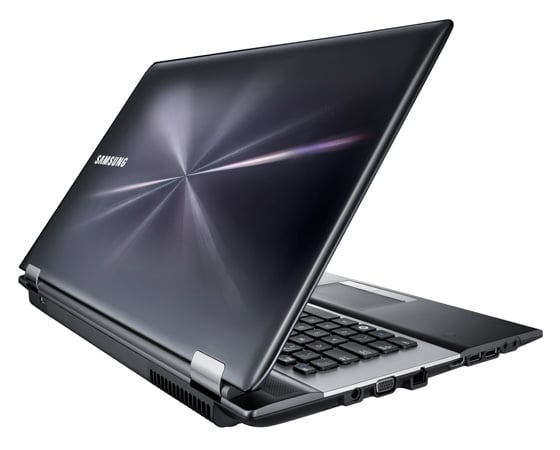 Good value, good performance, but way too heavy to lug around on a regular basis
Verdict
As machinery goes, the RF711 is only slightly more portable than the Large Hadron Collider, which is to say you shouldn't buy it if you want to use it on your commute or take it on a plane. What it does have is absolutely stacks of computing power, making it a great choice for those who need something with the power of a decent desktop in a low-profile, fit-in-a-drawer case.
The screen is massive and comfortable to work on, and Samsung has used the width of the RF711 to great effect, with an ample, solid keyboard. It gets even better when you consider the price - compare this to the slightly slower Sony Vaio VPCF21Z1E, which costs nearly two grand and has a smaller screen, albeit a 3D-capable one with more pixels. With a street price currently under a thousand pounds, the RF711 is a great, portable (sort of), all-round computer. Just don't call it a laptop. ®
More Notebooks Reviews...

Lenovo
Thinkpad Edge
E420s
Acer
Aspire 5940G
Apple
MacBook Pro
17in
Asus
N73SV
Sony
Vaio
VPCF21Z1E

Samsung RF711 17.3in Core i7 laptop
Hefty 17.3in notebook with the latest Core i7 innards.