Samsung RF711 17.3in Core i7 laptop
Sandy Bridge heavyweight
Review It's not unusual for desktop replacements to have a bit of heft, but Samsung's RF711 positively throws caution to the wind. Tipping the scales at an obese 2.9kg and measuring 416mm across (almost one-and-a-half feet), it's only a laptop in the sense that the screen folds down to cover the keyboard when you've finished using it. In short, it looks like a prop from The Borrowers – use it on your lap and you can expect to lose circulation to your feet.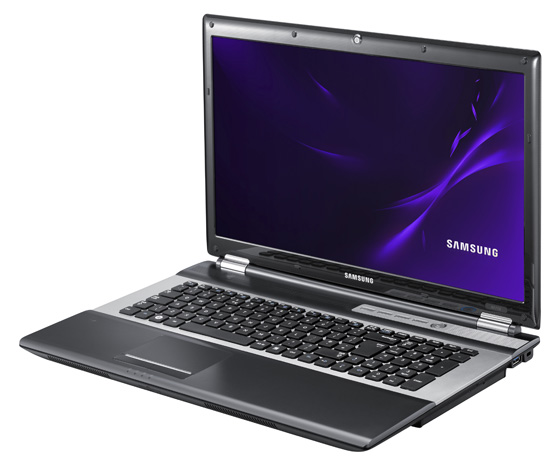 Going large: Samsung's RF711
Its size brings with it some real portability issues. Simply heaving it from one place to another is exhausting enough, but you can forget about using it, say, on an aeroplane tray table. And, while you could use it on the tables you get in train carriages you should steel yourself for some dirty looks from your now-ousted neighbours.
Still, its enormous case shields some top-end components. You would expect a machine this big to come with a decent amount of computational poke, and the RF711 doesn't disappoint. The quad-core Intel Core-i7 2360QM at its heart is a 2GHz Sandy Bridge number, and there's no less than 6GB of DDR3 RAM on-board. The RF711 fairly flew along under heavy use and produced a spectacular set of numbers under PCMark, with an overall score of 7073.
3D performance is a little less impressive. The Core i7 processor comes with Intel's HD Graphics 3000 onboard, but is supplanted in more demanding applications by a discrete Nvidia GT 540M chip with 1024MB of dedicated memory. It chuntered through 3DMark Vantage, although the framerate didn't get much higher than 15fps. The final score was 4455: a reasonable result that makes the RF711 good enough for mid-level gaming, if not full-resolution frag sessions.
On computers that offer a halfway house between desktop power and usability, and laptop portability, it's normal for battery life to be the chief casualty. Left repeating PCMark's tests with the screen on full brightness the RF711 ran for 1hr 42m before the battery was depleted. With the screen dimmed and the machine left otherwise idle, it went for 2hr 48m.

Two USB 3.0 ports are featured among the interface count
The times are reasonably respectable, particularly since the RF711's portability is more affected by its size and weight than by how long you can use it away from the mains. A fair compromise, most would agree, for the three-figure price.
Sponsored: Minds Mastering Machines - Call for papers now open