Whiptail cracks on: VCs pump it full of flash cash
Plans to demolish disk arrays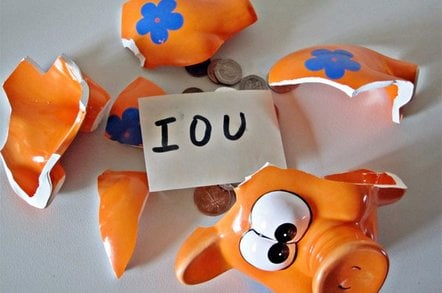 Comment Two venture capital firms have pumped A-round initial funding cash into flash array start-up Whiptail. What's got them so fired up?
Whiptail's XLR8r appliance is an all-flash memory array that can store things like VDI images and pump them out to booting PCs faster than a disk drive array.
Whiptail CEO Dan Crain said: "We're growing at high triple digits. This quarter we've substantially passed our projections and customer numbers are rapidly approaching 100 ... Revenues since our first customer ship are way up in the seven digits and we've shipped millions of dollars of kit."
It appears that sales results since May 2010 have been so good that the VCs – SMC and RRE Ventures – have opened their wallets and given an unrevealed amount of cash to Whiptail to:
Accelerate the expansion of the company's sales and marketing efforts as well as support additional product development. Sales efforts are being ramped up in the US and Europe through the hiring of sales teams, the development of key strategic partnerships, enhancement of the company's reseller channels and provisioning of key marketing support to that channel. For the remainder of the year, research and development projects will focus on several revolutionary product enhancements.
The VCs see a hot product that needs its selling channels and geography boosted and its technology made even hotter so they can make the big bucks down the road.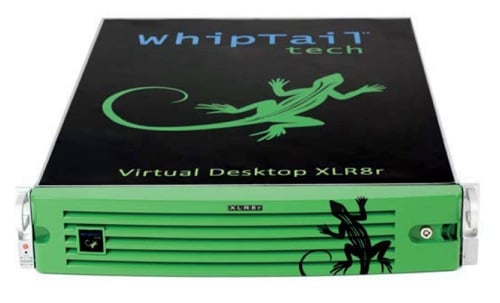 Whiptail XLR8r appliance. This will stand out in your data centre.
Speed and cost
The XLR8r uses 2-bit multi-level cell (MLC) flash solid state drives (SSDs) and it deduplicates and compresses its stored data so that the effective cost per stored GB is comparable to the cost per stored GB of raw data on a hard disk drive (HDD) array. HDD arrays generally can't deduplicate primary data, such as VDI images, without performance degradation, and often don't use compression.
Combine this with flash's speed advantages and Whiptail reps tell people you can have a Ferrari for about the price of a Caddy.
This is the cutting edge of storage array development. There is no way HDD arrays can catch up with flash because, while processors wait for disk heads to move across the platters and then wait for the sector to come to the head, the SSDs have already spat out tens if not hundreds of I/Os.
Crain says HDD array tiering is only needed because of the greater expense of faster storage tiers: "If you have reasonable cost parity in the next three years or so why do you need disk arrays? When NAND cost comparisons get close enough tiering becomes irrelevant."
The improvements that the VCs are excited about include 3-bit MLC flash, which will increase capacity and lower the cost/GB stored number more, and added performance. Crain said: "One million IOPS? We'll be there shortly."
The Data centre and virtual desktop XLR8r products do 250,000 IOPS currently, so it looks like a bigger and faster XLR8r product is coming.
Serviceability and endurance
Crain says Whiptail has an advantage over competitors Violin and TMS: "Violin uses VDIMM technology, like a memory module. We sell a proper storage array, and use SSDs which can be hot-swapped."
He doesn't believe a PCIe flash card approach is the right one for data centres either: "It's not a serviceable item. If there is a PCIe card failure it means turning the host computer off. PCIe flash is not suitable for bulk enterprise storage because of service issues."
One million IOPS? We'll be there shortly
What about MLC flash's limited endurance? "There is a seven-year warranty on the MLC SSDs. Most data centre equipment is only in place for three to four years. A Whiptail appliance can last upwards of 10 years."
Whiptail is talking to potential partners. Steve Starbuck, Whiptail's VP and general manager for EMEA, said: "You will be astonished at the level of contact and the companies interested in us." Crain added this little gem: "In six to nine months you'll see a possibly mind-blowing customer buy decision." But Whiptail is not interested in OEM deals.
A forming bandwagon
What have we got here? Whiptail is a hot little technology company with great results under its belt after little more than a year shipping products. It sees the potential market as so vast, being any enterprise with a disk drive array holding primary data, that it never runs into Violin and TMS in competitive sales situations.
The company's leadership seems to think that the coming of the all-flash array is like the coming of internal combustion engine cars to the horse-drawn world. But is it really? We'll only know for sure when we see the disk drive array vendors jump on the bandwagon. ®
Sponsored: Minds Mastering Machines - Call for papers now open