Samsung BD-D8900 Blu-ray player and DVR combo
Perfect combination?
File maintenance
It also plays 3D Blu-rays without any problems and there's a 2D to 3D conversion features, which works about as well as other systems I've tried. It does add depth to pictures, but it's nowhere near as convincing as real 3D content, and after a while the depth errors that creep in here and there start to jar. So, it's something that you'll try a couple of times, but aren't likely to come back to again and again.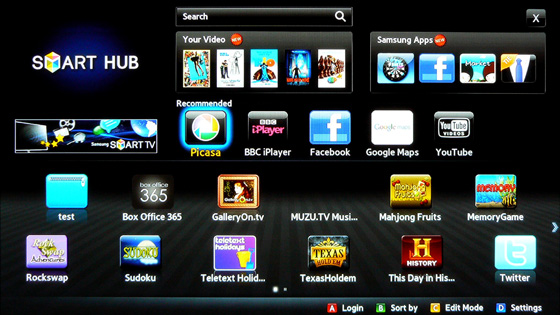 The Smart Hub home page is slick and colourful
Like most of today's Blu-ray players, this one can stream a range of formats across a network. However, this side of the device still needs work. While it played back Xvid and Dvix files without any problems from our PC and Iomega Nas drive, it refused to play any MKV files.
MKV files, do however, play if you use Samsung's own All Share software server on your computer. However, this seems to be very buggy and slowed the test PC to a crawl. The player also could only actually see the All Share server if it was running over Wi-Fi and not over Ethernet. Samsung clearly needs to sort these bugs out. Local playback from a hard drive from the front USB port was much better, though, as it played pretty much every format I threw at it including HD MKV files.
This model also supports Samsung's Smart Hub internet platform that the company has been heavily promoting in its recent TV ads. This gives you access to a range of on-line content from the colourful and stylishly presented Smart Hub home screen. The range of services on offer is among the best in the business and includes apps for Facebook and Twitter as well as Youtube, Picasa, and the AceTrax movie rental service.
However, what most people will probably use it for is accessing BBC iPlayer. The iPlayer app is very similar to those you'll find on TVs from LG, Sony and Samsung itself. However, the menus are a little bit sluggish and at the time of writing, there was a noticeable bug when using the iPlayer channel selector. Basically, the software wasn't highlighting the selected channel, so you kind of had to navigate blind. Hopefully Samsung will fix this soon with a software update.