HTC ChaCha Qwerty Android smartphone
Facebook favourite?
Socially aware
The ChaCha wears its social networking predilection on its sleeve – or at least, it wears a dedicated Facebook button just beneath its keyboard. The implication is that there's something extra on offer to ardent Facers. At first glance, there isn't, since the button does pretty much what the Facebook widget on your home screen does, ie allow you to update your status straight away. But there are differences.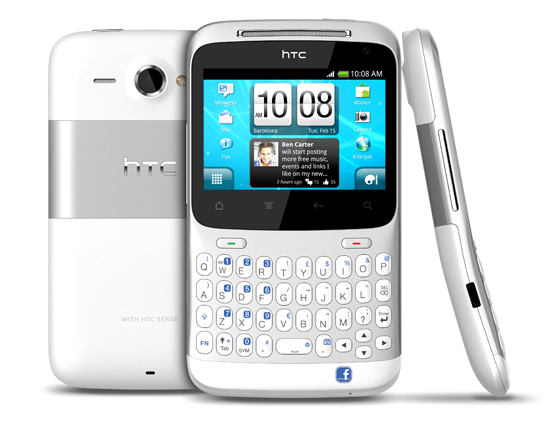 The Android option for Crackberry fans?
The layout has a different look, with options to search your gallery or go to your camera with a single button press. And depending on what app you're using when you press it, you'll get different results – hit the 'f' button while in camera mode for instance, and it will take a snap and prompt you to upload it straight away.
Press it while you're browsing or listening to music and it'll do the same, offering to share a link to the page you're viewing or to tell everyone what song you're listening to. Holding the button for longer takes you to the Facebook Places function, which allows you to check locations your friends have logged and record your own.
The ChaCha only has a 1,250mAh battery but it seems to make good use of it (the dinky screen probably helps) and I got a good two days of fairly heavy use out of it before I had to reach for the charger.
Verdict
The HTC ChaCha is a sturdy little smartphone with a fine Qwerty keyboard and a good-looking, if rather squished screen. The Facebook facility is well integrated and though it doesn't offer anything really different, it does make posting simpler and quicker. The small display means it's a bit of a jump from a standard smartphone, but BlackBerry users will certainly want to take a look. ®
Thanks to Clove Technology for the loan of the review sample.
More Smartphone Reviews

Nokia
E6
LG
Optimus Black
Nokia
X7
Motorola
Atrix
RIM
BlackBerry
Bold 9780

HTC ChaCha Qwerty Android smartphone
Mid-range Android 2.3 smartphone with Qwerty keyboard and Facebook button.