Original URL: http://www.theregister.co.uk/2011/07/08/htc_cha_cha_smartphone/
HTC ChaCha Qwerty Android smartphone
Facebook favourite?
Posted in Phones, 8th July 2011 06:00 GMT
Watch Now : Virtual Machine Movement with Hyper-V
Review If there is such a condition as telephonic incontinence then HTC is clearly a sufferer, as it churns out a handset for just about every conceivable demographic. With the ChaCha, the company is focusing on text warriors with a hard Qwerty keyboard and some social networking tweaks.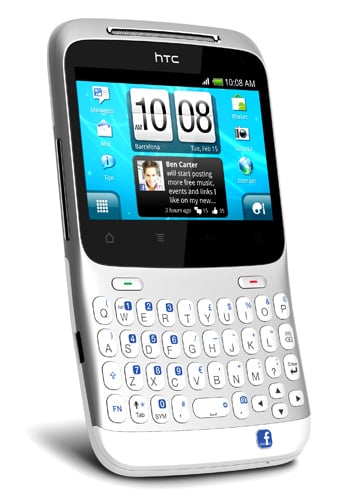 Upbeat performer: HTC's ChaCha
This Android 2.3 smartie is a funky frolic of a phone with a slimline form factor (114 x 65 x 11m and 124g) that curves in the middle to give it an ergonomic lift in the palm. Its white rubberised plastic and brushed aluminium casing give it a zesty modern feel. While the top half is typically Android – with the four familiar control buttons nestling beneath the touch screen – the 40-key Qwerty keyboard that takes up the lower part looks decidedly different for a Googlephone. BlackBerry users may feel a certain déjà vu, however.
The keys are made of HTC's comfortingly tactile rubberised plastic, and each one is raised proud of the casing. They're easy to find and press, both with the tip and the flat of the thumb, and offer good feedback with reassuring clicks for each press. They're nicely spaced too, so they're just as easy to use with two thumbs as one.
While there's plenty of room for the keyboard buttons, the same can't really be said for this diminutive touchscreen. Unusually for an Android phone it's essentially landscape rather than portrait format, with its so-so 480 x 320-pixel resolution crammed into a 2.6in display, which at least helps it to look a little sharper than it would on a bigger screen.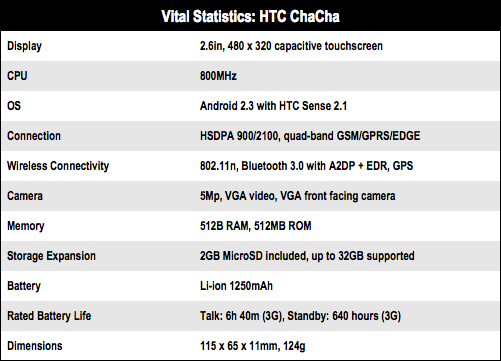 ---
Home from home
There are up to seven home screens and you can get all the usual decorations, including FriendStream and HTC's lovely weather widget, but all look a little cramped. Some apps don't even try to fit into the screen's restricting dimensions, and for some you'll need to turn the phone on its side to see them as they should be. Web pages seem to fit in just nicely though, since they're generally designed for screens with a similar ratio.
Sample Shots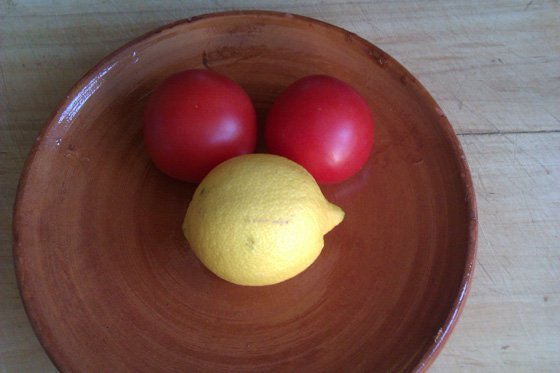 Click for a full-resolution image [1]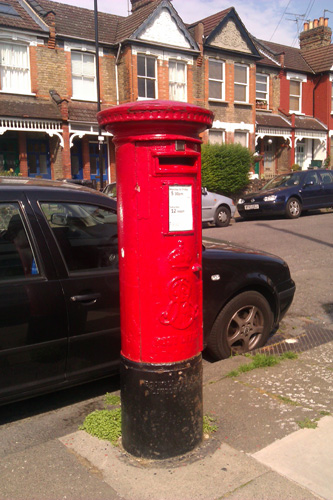 Click for a full-resolution image [2]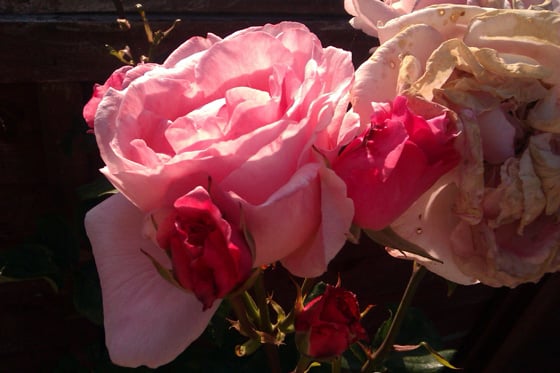 Click for a full-resolution image [3]
The Flash support appears to be only Lite however, so you'll get some animated banners, but not necessarily the full streaming video experience. It's running Android 2.3 with HTC's latest Sense 2.1 user interface. And while the latter takes a bit of juice to run, the ChaCha's 800MHz processor seems to be up to the job, proceeding at a goodly pace through the apps and showing only very occasional signs of lag when things got busy.
The 5Mp camera is OK by HTC standards (that is, not great) but the overall quality is satisfactory. There's a fairly anaemic flash with it plus autofocus, face detection and geotragging.
---
Socially aware
The ChaCha wears its social networking predilection on its sleeve – or at least, it wears a dedicated Facebook button just beneath its keyboard. The implication is that there's something extra on offer to ardent Facers. At first glance, there isn't, since the button does pretty much what the Facebook widget on your home screen does, ie allow you to update your status straight away. But there are differences.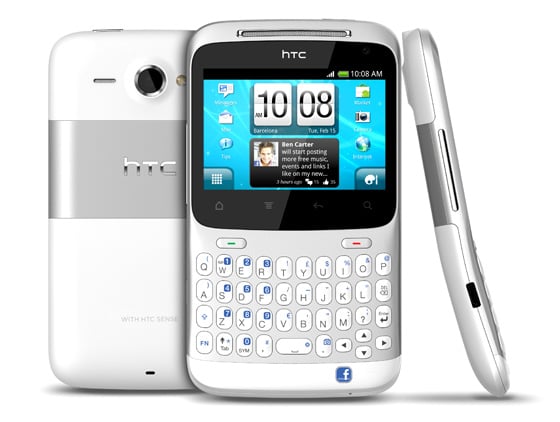 The Android option for Crackberry fans?
The layout has a different look, with options to search your gallery or go to your camera with a single button press. And depending on what app you're using when you press it, you'll get different results – hit the 'f' button while in camera mode for instance, and it will take a snap and prompt you to upload it straight away.
Press it while you're browsing or listening to music and it'll do the same, offering to share a link to the page you're viewing or to tell everyone what song you're listening to. Holding the button for longer takes you to the Facebook Places function, which allows you to check locations your friends have logged and record your own.
The ChaCha only has a 1,250mAh battery but it seems to make good use of it (the dinky screen probably helps) and I got a good two days of fairly heavy use out of it before I had to reach for the charger.
Verdict
The HTC ChaCha is a sturdy little smartphone with a fine Qwerty keyboard and a good-looking, if rather squished screen. The Facebook facility is well integrated and though it doesn't offer anything really different, it does make posting simpler and quicker. The small display means it's a bit of a jump from a standard smartphone, but BlackBerry users will certainly want to take a look. ®
Thanks to Clove Technology [4] for the loan of the review sample.
More Smartphone Reviews

Nokia
E6 [5]
LG
Optimus Black [6]
Nokia
X7 [7]
Motorola
Atrix [8]
RIM
BlackBerry
Bold 9780 [9]