ANONYMOUS: Behind the mask, inside the Hivemind
Where and who are the Anons? Everywhere and everyone
Delicious cake
Most Anons are benign; however the error bars of acceptable – or fun – behaviour vary greatly by individual. In any given random sampling of Anons you will find one that feels it is funny to email or fax you horse porn at work, one who will bake you a delicious cake, one who volunteers at a charity 20 hours a week and yet another who will DDoS your website because they didn't like the colour scheme.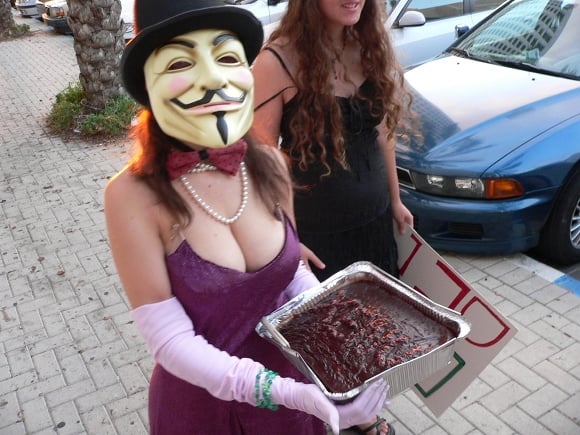 Anons are teenagers, they are programmers. They are judges and nurses and lawyers. Anons are sysadmins and teachers, the poor, the rich and everything in between. Anonymous may have started on 4Chan, but today there are members everywhere.
Anonymous lurks on Reddit, and includes commentards here on The Register. Anonymous spends time on FunkyJunk, trolls you on Xbox live and even counts among its number many of Something Awful's Goons.
Anonymous is neither internet Jesus nor the internet boogeyman – though individual Anons may well be either or both. Anonymous is here to speak its piece, fight for its variegated ideals, and enjoy the lulz. Party hard, Anonymous. ®
Bootnotes
1 Oldfags are individual Anons, or frequenters of Anonymous-friendly websites who have been participating for some time. The opposite of course, are Newfags. No element of homophobia is implied. Rather, Anons append "fag" to the end of a term as a sign of disrespect for those who use "fag" and "gay" as pejoratives.
2 Anonymous is often linked nearly exclusively to the /b/ section of the 4Chan image board. In reality, Anonymous occupies far more digital real estate than this one website. There are hundreds of other image boards bearing the "Chan" name, 420chan and 711chan being the most notable. There are also numerous other image boards that do not use a *Chan nomenclature. More here. Warning: not remotely safe for work, home, or anywhere else. Ever.
3 Getting banned refers to being banned from a website, forum or IRC channel. Getting vanned refers to being arrested by a law enforcement agency, frequently the FBI.
Disclaimer: Any opinions contained in this article are those of the author or those quoted, not the editorial position of The Register. We do not endorse breaking the law and we take no stance on the righteousness or otherwise of the causes espoused by members of Anonymous or any other online collective.
Sponsored: Minds Mastering Machines - Call for papers now open