Volvo S60 DRIVe
Sprightly yet economical
Android in your car
While Volvo hasn't ploughed a new furrow with its start/stop system, its embrace of the smartphone app is rather more cutting edge. Called Volvo On Call, it only works - on iOS and Android - if your Volvo has the optional On Call pack fitted. Mine didn't, hence the demo screen grabs.
Assuming it works as advertised, there are some handy features, including the ability to remotely lock and unlock the car, fire up the climate control, see how much gas is in the tank, look up in Google Maps where you left you car, and check if the lights are on. Surprisingly for a car in its class, the S60 doesn't have a lights-left-on warning buzzer.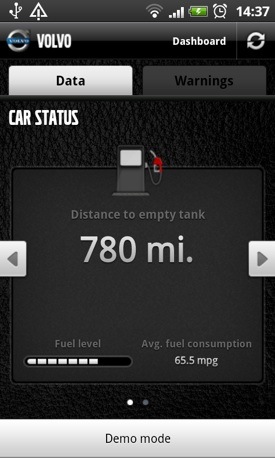 Plenty of gas in there, but where's my Volvo, dude?
The Journal part of the app, which keeps a record of all the trips made in the last 40 days, I can see being of particular use to company car drivers and anyone who wants to keep tabs on their motor when they are not behind the wheel themselves.
Buy your S60 with what Volvo calls the Driver Support Pack - a £1485 optional extra - and you get all the trick safety features that Ford has fitted to its new Focus, including the self-explanatory Lane Departure, Blind Spot Information and Collision Warning systems. No real surprise here as the systems were developed before Ford sold Volvo to Geely.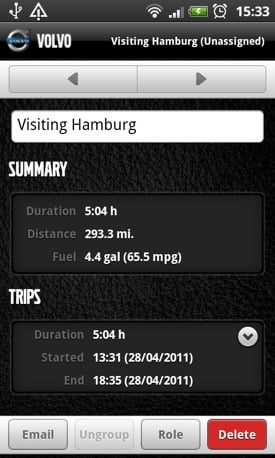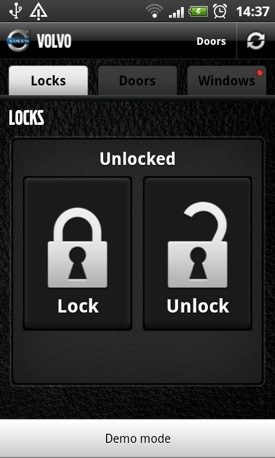 Log your trips - and make sure you don't leave the car open
The Swedes have taken things a step further with something called Pedestrian Detection. This tunes the radar detector behind the front grill to spot users of shanks' pony. If it detects an ambulatory inattentive at speeds below 21mph you get a warning. If the alert is ignored, the brakes go on automatically, you stop and the local A&E has a quiet day.
Displaying a worrying lack of confidence in Nordic engineering, none of Reg Hardware's editorial team seemed keen to stand in the car park and test the system. Luckily, I'd already done so on a track with some life-size dummies at a Volvo demonstration.
When I stormed up to Joe Crashtest Dummy at 35mph the system wiped off a good 30-odd miles per hours worth of speed before I ran the poor schmuck over. Had it been I real accident I'd still have ruined his day but the damage to his legs and my car would have been much reduced.
Volvo's explanatory video is not exactly Bergman-esque in it's scope - and I for one want to know where all that flying coffee ended up - but you get the idea.
Sponsored: Minds Mastering Machines - Call for papers now open