Chip makers thrive on tablets, e-readers, cars
Semiconductor sales rise despite PC doldrums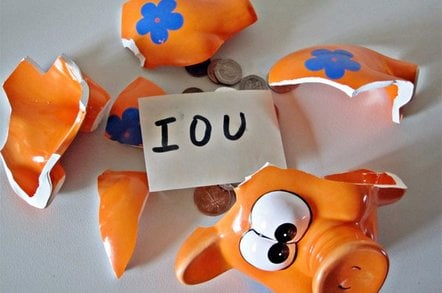 The PC market might be cooling a bit, but the world's appetite for tablets and e-readers and cars with all kinds of electronic gadgetry is helping prop up the semiconductor industry just the same.
That's the current prognosis from the Semiconductor Industry Association, which reckons that chip makers raked in a little over $25bn in revenues in May, the most recent month for which it has data. Semiconductor sales in the Americas region were up 3.2 per cent on a year-on-year basis to $4.52bn. Chip sales in Europe rose by 3.8 per cent in May, to $3.24bn, and thanks in large part to the earthquake and tsunami in Japan back in March, sales of semiconductors in Japan dropped by 9.9 per cent, to $3.34bn.
The Asia/Pacific region continues to have the largest appetite for chips, with sales of $13.9bn, up 3.2 per cent. (The SIA does a three-month moving average to wash out the effects of the large month-to-month swings in chip sales, so all of those figures above are an average of March, April, and May figures for 2011 compared to the average sales in the same three months in 2010.)
The rolling three-month average of just over $25bn in sales calculated by the SIA for May was up 1.8 per cent for the rolling average for February, March, and April, when SIA calculates semi sales were $24.6bn.
The semiconductor industry has basically recovered from the Great Recession, which you can easily find in the troughs in blue and red in the chart below: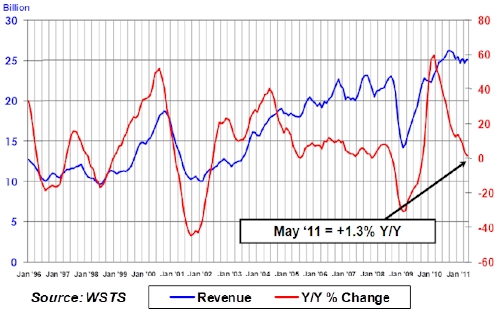 Semiconductor sales and growth rates over time
"Taking into consideration macroeconomic factors impacting consumer confidence, the steady but modest growth that the industry demonstrated in May is encouraging," explained Brian Toohey, president of the SIA, in a statement accompanying the figures. "Global demand for high-end electronics, the continuing proliferation of semiconductor technology into a wider range of products, growth in emerging economies, and better than expected recovery from the Japan earthquake will be continued drivers of industry growth in 2011."
The latest projections from SIA call for semiconductor sales worldwide to grow by 5.4 per cent this year, to $314.4bn. That is up from a more modest 4.5 per cent growth forecast that SIA did back in November 2010 for the 2011 year. This will be followed up by 7.6 per cent growth in 2012 and 5.4 per cent in 2013. Tablets, smartphones, and e-readers are not the only devices driving chip sales worldwide. Industrial electronics used in solar panels and other renewable energy machinery is also pushing up chip revenues, as are electronic systems in cars. ®
Sponsored: Minds Mastering Machines - Call for papers now open