Quantum says it's back and ready to join the storage fray
'The cloud is nothing new'
The cloud tier
What about Quantum and the cloud? According to Gacek, the cloud is nothing new: "When I hear cloud it's about centralisation and sharing, about consolidating a bunch of resources in the same centre and sharing them with people. It's not a brand new idea."
But: "We'll play in the cloud for sure. Our products will catch and throw to the cloud ... I think StorNext is a key cloud technology for us."
Himelstein said: "We're well on the way for using the cloud as another tier of storage ... StorNext and DXi both see cloud as another tier of storage and can take advantage of dedupe."
He pointed out: "DXis replicate today ... We could add a cloud spigot to DXi, and add Fuse, and it makes cloud look like a filesystem. We're figuring out what the right technologies are for doing this."
He is careful to say that he is speaking from a technological possibility point of view. It is Quantum's business and product people who decide about products and he doesn't speak for them, he said.
Tape innovation and business
Asked about Quantum's business, Gacek said: "We make money on tape but we lose money on disk and software. The break even on disk and software is $30m to $40m a year. ... We have a 22 to 23 per cent market share in tape."
We make money on tape but we lose money on disk and software.
The general strategy is to make money in a flat or declining overall tape market, win new customers and take advantage of channel stress. Gacek pointed to Oracle as the cause: "Our biggest tape competitor has been StorageTek/Sun. Oracle buying them has changed that. Oracle is not a channel company. Tactically they've raised maintenance pricing and gone direct with many accounts."
Quantum reckons it can pick up dissatisfied Oracle tape channel players because of this.
Will Quantum bring out a high-end library? No, it won't; the i6000 will stay at the top the library range and there is no StreamLIne 8500 or Spectra T-Finity-class product coming. Quantum may add more than 8 frames to the i6000 and thus increase its scalability. The main focus is going to be on increasing library availability, reliability and software functionality.
Quantum will innovate to accelerate the access to tape data. How about deduping tape contents to increase the effective capacity?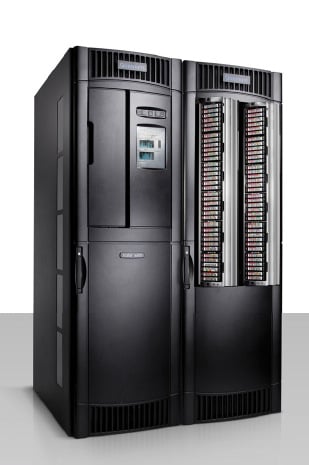 Scalar i6000 Tape LIbrary.
Himelstein said: "Putting dedupe data on tape is possible .. LTO has multiple channels [and] you can partition the tape ... It's what you need. It is a reasonable idea. ... The data [space] on the tape can be sufficient to be context-inclusive [referring to the dedupe metadata]. We do this already today with our DXi replication technology."
This is a theoretical discussion though. There are no products promised.
With recent good results and the Pancetera acquisition it looks as if Quantum now back from its hard times. Gacek is optimistic: "Our business health is very good. We'll be close to paying off all our senior debt this year ... I use a sports analogy. It's the start of the season. We look as if we can compete with everybody. Now we have to go and play, show we can grow. I'm a sports guy. You have to be aggressive. We have to get used to that attitude. It's all about winning and growing."
Once Gacek gets Quantum making money from the DXI products and from StorNext, then Quantum will have three profitable businesses instead of one and be in a whole lot better shape. Its branded tape business is already good and the OEM agreements for the i6000 with HP and StorNext – with NetApp providing validation support – should encourage channel support. Quantum is back to health and about to join in the storage fray as a full-time player again. ®
Sponsored: Minds Mastering Machines - Call for papers now open