Quantum says it's back and ready to join the storage fray
'The cloud is nothing new'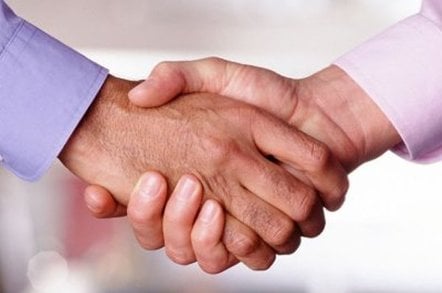 Comment Quantum is heading towards big data and the cloud. It will produce its own big data arrays with StorNext software controlling them, and add cloud storage tiers for DXi and StorNext.
The company is a legacy tape vendor, being a member of the LTO consortium as well as a manufacturer of Scalar tape libraries, which has transitioned to add DXi deduplicating drive arrays for backup data and StorNext heterogeneous file management software popular in the media world. NetApp has just announced it is reselling StorNext software.
At Quantum's San Jose HQ, CEO Jon Gacek said he didn't originally feel very positive about a StorNext deal with NetApp, as StorNext would turn NetApp's FAS arrays into plain disk. He said he didn't like it "until they bought Engenio, which is plain disk". NetApp bundles StorNext with Engenio and "the E3000 Full Motion Video is the first product". Said Gacek: "I like that deal."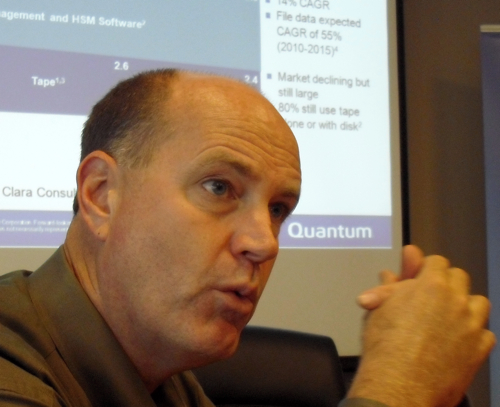 Jon Gacek, Quantum's CEO, makes a point.
NetApp is also now a supplier to Quantum; the DXi8500 is based on Engenio disk shelves.
Will Quantum sell its own drive arrays bundled with StorNext? "I think you'll see us selling an appliance with disk and StorNext," says Gacek, although Quantum mustn't compete with its disk array partners. "We sell 6x the hardware with a dollar of StorNext software. We should get some of that."
Gacek continued: "We're going to have a series of StorNext appliances focused on specific user problems."
About StorNext, he said: "When you sell a dollar of StorNext you sell $5 to $6 of disk. The disk array vendors like it. HP, IBM, DDN: they'll all sell it."
StorNext will connect with LTFS: "We'll believe LTFS is a good thing. StorNext will be capable of LTFS exchanges and interaction."
DXi and Pancetera
Quantum bought VMware virtual backup specialist Pancetera last month. Gacek said: "Pancetera allows to provide solutions of DXI and StorNext products in virtualised areas. We sell into virtualised environments today. With Pancetera DXi will be differentiated from Data Domain there."
"Pancetera's Unite SW cracks open a virtual machine (VM) and clears it out – then we can move the data quickly and dedupe it. We're moving the technology into our DXI roadmap and it will allow DXI software to run in a VM with no hardware.
"Pancetera's Smart Motion software is not a backup app, but we can use it to move data and get rid of the backup headache for certain apps. It gives us the idea of virtual backup appliance with dedupe and scrubbing... We can combine Unite and Stornext to move files from a VM to StorNext... We're going to be very aggressive here. We're going to have products... Backup is old and boring. Virtualisation is young and hot."
Currently Quantum has its v2.0 DXi deduplication software rolled out on two of its DXi products. Gacek said: "I'm very focused on getting that product out on our whole portfolio. Today we're selling two products. In a month, v2 will be across all DXi products."
Asked about flash storage and the DXi products, chief technology officer Mark Himelstein said: "We already have flash in some of the DXi boxes ... [They] have dedupe metadata on SSDs. The DXi 8500s do not. We will look at each generation and do what's right."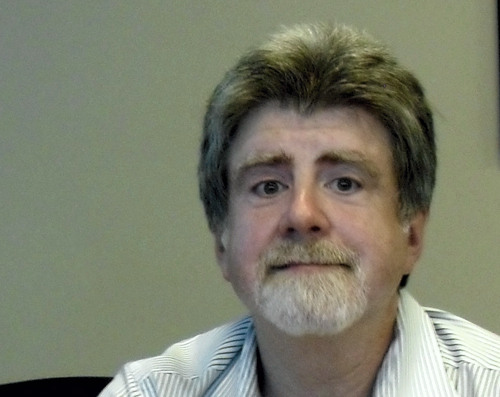 Mark Himelstein, Quantum's chief technology officer.
Will 3-bit multi-level cell (MLC) flash make flash more affordable? Himelstein said: "We're hopeful. At some point I'm hoping the cost and performance relationship changes so we could look at flash as a great big memory. I know of at least two startups looking to create all-flash arrays. We won't be at the leading edge but we'll be there."
Sponsored: Minds Mastering Machines - Call for papers now open