Samsung NS310 netbook
There's life in the old dog yet
Review Will the tablet kill off the netbook? Probably not. Granted the netbook has never quite fulfilled its promise due to a combination of prices that went up with specifications that didn't. Even so, I've yet to find a fondleslab that can truly replace my Windows 7/Ubuntu dual-booting Samsung N140.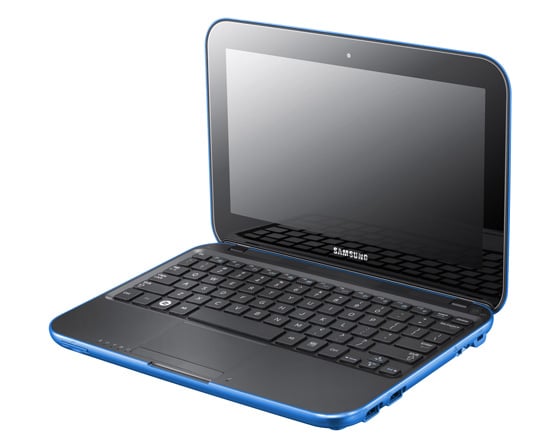 Lap it up: Samsung's NS310
The latest netbook from Samsung doesn't address any of the fundamental failings of the breed – at £350 it's still too expensive and even with a dual-core Intel Atom CPU, it remains a bit gutless. However, it has on-board some interesting new features compared to its predecessor the N310.
The most obvious change is the addition of a backlight to the chiclet keyboard, so it now glows a rather attractive shade of blue in low light. My netbook is usually used of an evening in the subdued light of my lounge or in darkened press conferences, so this is a feature I heartily welcome.
The keyboard itself is rock solid and rather pleasant to type on and I've no complaints about the multi-touch trackpad or single-piece click bar – both work a treat. Next up is what Samsung is calling a SuperBright screen. Apparently, it luminesces to the tune of 300nit or candelas per square metre (cd/m2) which sounds bright. It looks bright too.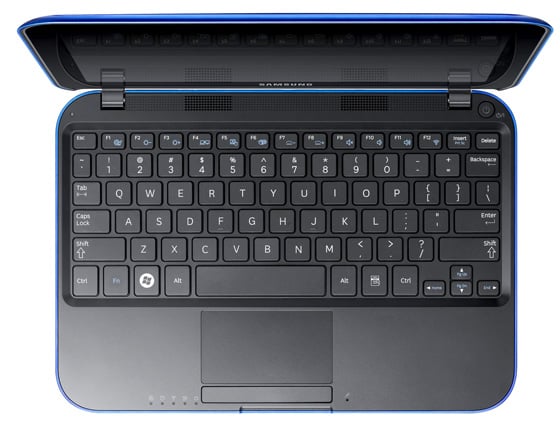 Lights up like an Xmas tree at night – the UK version has a proper Enter key
Turned it up to the maximum and the screen is significantly brighter than that of the N140. Sit in front of it for long enough and you will probably get a tan or become infertile. Sadly, there is nothing super about the rest of the screen's specification. It's still only 10.1in corner-to-corner and makes do with a 1024 x 600 resolution.
COMMENTS
I thought so too
...except that theregister steadfastly chooses to ignore any netbooks that don't have an atom chip, and then moan about how there's no innovation.
Crippled with Windows 7
And expensive too because of it. With 2GB or more of memory and a bigger resolution screen instead this would look more like a sane system.
I thought Brazos killed the Atom..
I guess not. Pass.
Why shite screen?
600? Really? That is just utter shite. It's almost as if netbook manufacturers are trying to die a death by a thousand cuts with some of the crap they release. If Intel or MS are hamstringing you then use ARM or AMD and/or Linux. I can no longer see average Joe who can't install an OS getting one of these as they'll invariably want a tablet, hence Linux should no longer be the issue it once was. Put a sticker on it that says "Would have Windows 7 and Intel inside but they said no" if need be.
Very pleased
I'm very pleased you tried it with Linux, and reported everything worked. Now that is proper journalism, not cut-and-paste press release handling.
Bit disappointed that you have to buy it with windows at all, but at least it is the toys-r-us version of W7, so the gatestax is a bit cheaper. Bad news for anyone who wants to use Winjows, as they have to buy it twice, but hey! that's M$ for you.