Ten... pocket compact cameras
When a phonecam just won't do
Samsung ST30

Touted as the "world's smallest optical zoom camera", the ST30, at 82 x 52 x 17mm, is only marginally smaller than the Kodak and, at 86g, only a touch lighter. With power and shutter release on the top plate only and a typical array of dedicated controls at the back, this 10.1Mp snapper is delightfully dinky.
Turn it on and the first thought is: yuk. The 2.4in screen resolution is only 112k dots, so it looks decidedly low-res compared to the other models here. This does lead to an assumption that the images are as grungy as the screen. Thankfully, they're a pleasant surprise, especially when compared up against the Kodak, which also has a 1/3in sensor.
Samsung's 4.1-12.3mm, f3.3-5.9 (35mm equivalent 28-84mm) 3x zoom lens performs better than the Kodak too, taking surprisingly good macro shots, as well as proving to be a good all-rounder. It's also quick off the draw at just under 2.5s from start to shoot. The autofocus response was also within respectable limits and coped well for low light and night shooting.
The MJPEG AVI video recording is standard def but does allow use of the optical zoom. However, like many of Samsung's compacts, the company 'thoughtfully' kills the audio by default, so your clips aren't spoiled by the machinations of the zoom. You can turn the mic on in the settings and even choose to mute during zoom, but it's all just daft. Don't kill the sound, Samsung, users expect audio on video, and if there is a bit of noise, it can be dealt with later.
As a step up from a phonecam, the ST30 certainly hits the spot, with the low-res screen and Micro SD storage choices being the only things to grumble about. If you're content with a 10.1Mp resolution, as a point and shoot snapper, the ST30 puts in a thoroughly respectable performance with good ISO choices, spot on exposures and an autofocus that gets it right just about every time.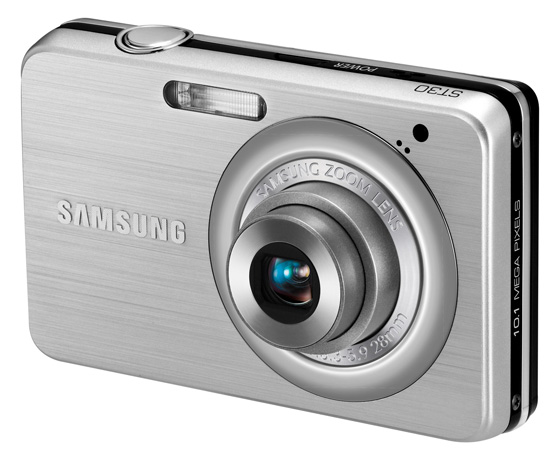 Reg Rating 70%
Price £90
More Info Samsung
Sony Cyber-shot DSC-W360

When searching Sony's offerings for a small and cheap compact, the DSC-W350 seemed to fit the bill, but it looks like this model is soon to be phased out. However, Jessops has the exclusive on the DSC-W360, which to all intents and purposes is the same camera, featuring a 3in screen and, consequently, a fractionally bigger body at 94 x 56 x 17mm weighing 107g.
This Cyber-shot's 4x optical lens (4.7-18.8mm, f2.7-5.7), has a 35mm equivalent of 26-105mm putting its wide-angle shooting on a par with the Casio and Olympus. Indeed, it features the same resolution sensor as these models: 14.1Mp. Along the top is just power and shutter release, and the backplate has dedicated function keys, along with a slider to switch modes from stills, panorama and video.
It records 720p HD video as MP4 files at 29.97fps and you get full use of the optical zoom – with some momentary whirring noises thrown in while you do so – making it the most versatile for movie making, although 25fps would be nicer. Power up to capture was good too, at just over 2.5s.
The Sony was easy to overlook during tests because it gave so little cause for concern. Its performance was so consistent, delivering a very low failure rate that was on a par with the Canon and the Nikon. The camera proved a steady shooter with very crisp colours and nicely suppressed JPEG artefacts, although it was inclined to under-expose slightly in challenging lighting, but not too drastically.
Although the sensor seems up to the task, the wide-angle lens performance at the edges loses definition, but nothing like the Kodak. The screen, while large and bright, soon appears washed out if not held directly in front you, so sneaky waist level shots are a bit more of a challenge than need be. But unless you're going in for poster prints, these imperfections will most likely go unnoticed - this camera does have a high megapixel count, after all. Given its current price, and its consistent delivery as a point and shoot performer, it's unlikely you'd be disappointed with this Cyber-shot. ®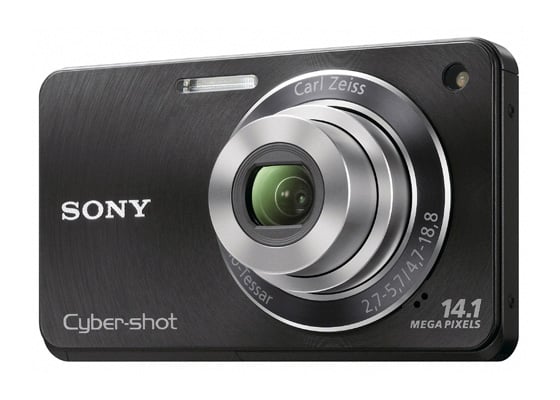 Sponsored: Minds Mastering Machines - Call for papers now open