Star Wars fans want Sony sued over game shutdown
Fear of loss, a path to the dark side is
Fans of the LucasArts' MMOG, Star Wars Galaxies, are so upset by Sony Online Entertainment's decision to axe the title this December, that they claim they're planning to file a lawsuit.
Star Wars Galaxies was launched in 2003 and after several disliked updates, started to lose its popularity. Now, with the contract almost up, and its successor, The Old Republic, hitting shelves soon, the company felt the game had run its course.
According to VentureBeat, a number of players have written in, claiming they're going to sue SOE. But will the courts be with them? Alas, there's no grounds for a lawsuit, but the disgruntled minority said they'd do it anyway out of sheer frustration.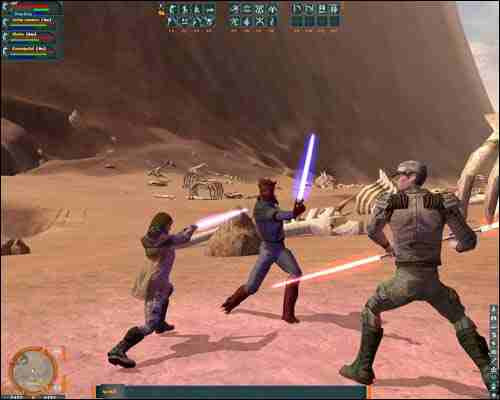 Won't give up without a fight
Over 2500 players have now signed a petition asking SOE to switch to the free-to-play model and maintain the game through sales of virtual goods.
However, SOE has locked Star Wars Galaxies forum threads that promote the petition and has the power to ban any agent provocateur, as those who play the game signed away their rights in the end-user license agreement.
Face it, guys, Star Wars Galaxies is a spent force, it's time to let it go. As a little wise green thing once said: "Always in motion is the future." ®
COMMENTS
The perils of online gaming, eh?
No wonder certain members of the industry are so keen on all this on-line verification stuff - lets them dictate what you play, when you play it, and for how long (want people to buy a new game? switch the old one off!). Old, off-line games last forever.
I suppose they could always hand it over to the enthusiasts, but would they still want it after all of the licensed content had been stripped out?
The moral of the story?
If you want to use a piece of software (or data) "forever", it best not be something that's dependent on servers that someone else is in control of, or that has a means to be remotely disabled or removed. MMOs, cloud apps, phone apps, e-books...all can and have been killed off at the whim of their owners (you, the paying user, are not the "owner", sorry).
Even stand-alone software can meet its demise. Several old, good games went the way of the dodo with the move to Windows 2000 and newer. But plenty more still work.
Overall, don't get too attached to your digital stuff. You'll probably outlast it all.
Peerless pre-CU
Before the Combat Update the game was imo peerless. It had an exceptional skill tree system where people could choose their own specialism instead of being forced down arbitrary "you are a Bounty Hunter, you can do nothing else" paths. Then the CU hit and dumbed down the combat, and the NGE followed which made Jedi ubiquitous (and thus neutered - can't have a starting class be any more powerful than anything else).
Raph Koster's original vision for the game was awesome, it's a shame SOE didn't have the guts to perservere with it and instead tried - as many others have - to emulate the WoW model.
but will the courts be with them?
Love it, absolutely love it. God I love el reg. that's all carry on
Little wise ?
or wise little ? Anyhow, I don't remember Kermit the Frog saying that.