Lenovo Thinkpad X220T 12.5in tablet PC
A fondleslab too far?
Weighty consequences
If time isn't of the essence, you can opt for the three-cell battery, but there's no room for an UltraBay battery pack. Well, that's because there's no UltraBay. Instead you can buy a battery slice that clips under the chassis which gives 5800mah in a six cell battery, taking it to 20 hours – although adding a kilo to the weight and a $229 hole in your pocket.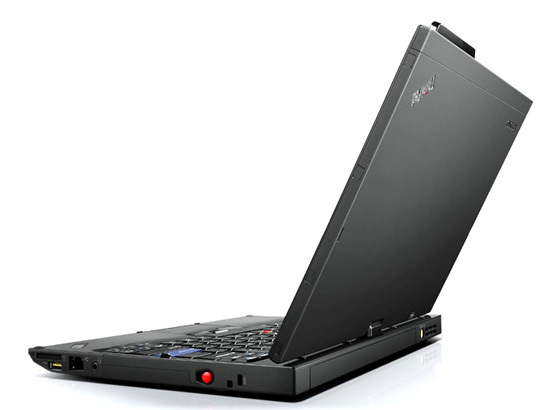 Take the tablet? The X220 laptop seems a more practical option
There are significant compromises to opting for the Tablet variant of the X220. It adds substantially to the weight and mass, and for some inexplicable reason, the usual Thinkpad keyboard light is absent (even though the keyboard decal indicates it's there).
Tablet PCs have failed to win a mass market, but they maintain the following of a loyal and helpful user community. Yet, nine years after launch, Microsoft's software still doesn't feel like a coherent or mature product.
Verdict
Lenovo has consolidated much of the best of two product lines in the X220T. Potential buyers may want to consider the Thinkpad Air-killer, the forthcoming X1, before parting with your cash, but this model's compromises (no user replaceable battery) may not appeal to traditional ThinkPad customers.
With Windows 8 offering a revamp that is specifically designed around touch, and with cheap lightweight devices offering sit-back use, it is difficult to see the appeal of this hybrid design. Inside the Lenovo X220T is probably the best business laptop on the market, struggling to get out. ®
More Notebooks Reviews...

Ten…Core i5
laptops
Asus
N73SV
Apple
MacBook Pro
15in
Dell
Inspiron Duo
Asus
NX90Jq

Lenovo Thinkpad X220T 12.5in tablet PC
Core i7 pen and pinkie tablet incarnation of the stalwart ThinkPad notebook.