Scientists print out solar cells using inkjet tech
Sheet hot
While 3D printers spew out house keys, ladies' swimwear and even compete with Gordon Ramsay in the kitchen department, the lowly inkjet has effectively been shoved aside. There's still some life in the old boy yet, though, after scientists used one to print solar cells.
Boffins from Oregon State University (OSU) claim to have put together the world's first 'CIGS' solar device with inkjet printing.
CIGS, which stands for the copper, indium, gallium and selenium found within, is a compound also known as 'chalcopyrite' and is apparently perfectly suited for thin-film solar cells.
Using inkjet technology, the team squeezed out CIGS-based solar cells able to convert light into power with an efficiency of five per cent efficiency. That's too little to replace today's solar panels, but the scientists reckon their technique has the potential to reach an efficiency of 12 per cent. This would put it in the frame for commercially viable solar cells.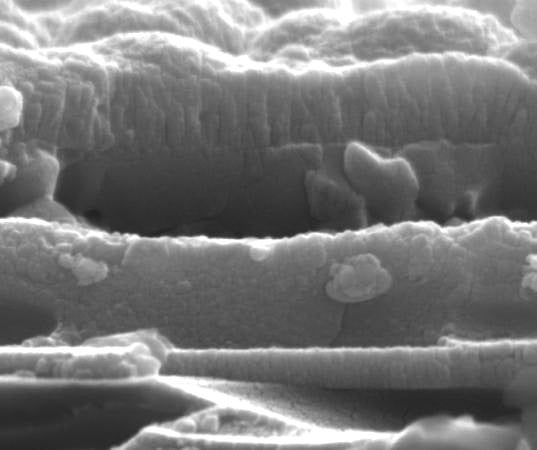 Solar cell up close
Apparently, a layer of chalcopyrite just one to two microns thick can capture the same energy as a 50 micron layer made from silicon. The inkjet technique reduces raw material waste by a staggering 90 per cent.
OSU professor Chih-hung Chang highlights the dramatic reduction in wasted resource,
"Some of the materials we want to work with for the most advanced solar cells, such as indium, are relatively expensive," he said. "If that's what you're using you can't really afford to waste it, and the inkjet approach almost eliminates the waste."
As it stands, we're unlikely to see solar ink cartridges appear at our local Rymans, but the potential is huge and if costs can be reduced enough and the process tweaked properly, scientists say it could be used to build solar panels directly into roofing materials.
The idea of printing sun-soaker cells is nothing new. 'Power Plastic' manufacturers Konarka Technologies produced solar panels in 2008 using inkjet techniques. They weren't quite the same, though. ®
COMMENTS
Printed solar cells.
Hang on......if you put those on your roof, won't the paper get all soggy when it rains?
"The inkjet technique reduces raw material waste by a staggering 90 per cent."
Obviously not using my ink-jet printer then.
That one seems to spend half its life doing cleaning cycles and spurging my expensive ink into foam pads.
re speed of altenator
you can gear it up and loose some power and still be quids in.
But then, in the long term, why not mass produce ones that work at the lower speeds for a similar cost.
Can you explain why a £2.5k windmill setup costs anything like it does - when a mass produced version of the same, but maybe 20% less efficient should come in around £300.
Now put up 8 of those in an acre or two and you could retire with tariffs as they are - and use the excess power generated that cant be sold to the grid for an olympic sized jacuzzi to sip your G&T in.
Gears.
They don't just go in a downward direction, yaknow.
Though whether a car alternator plus gearing plus the wear and tear on the brushes is any cheaper than buying some lanthanide magnets and winding your own coils to stick on a backplate is another matter. You can make a DIY brushless permanent magnet jobbie for not that much these days. Might not have quite the efficiency of a precision-engineered thing costing thousands, but then I think the OP's point was.. err.. yeah. Cheap.
$/W is the only meaningful measure
The primary limiting factor for high PV uptake is cost per W. As the parent says, so what if it is 10x the size, just tile the roof with the stuff.
Of course PV is in itself only part of the equation, It has already got to the state where the inverters etc cost 50% of the cost of a grid connected system. Bringing down cost of the support electronics is going to be the next major issue.
Even if grid connected PV was to provide 100% of daytime power generation, you'd still need power stations to provide dark time electricity. Battery technology is far too primitive to do the job.