Samsung runs to the ITC to seek Apple ban
What, a litigation route left unexplored?
Samsung has filed a complaint with the US International Trade Commission seeking to ban the import of Apple handsets which it claims are in breach of its patents.
The filing relates to the ongoing patent spat between Samsung and Apple. The ITC has the power, if it thinks that a patent is being infringed, to prevent infringing goods being imported into the US, which is important when so little is manufactured there. It rarely exercises that power, but does move faster than the courts, so an ITC complaint has become a standard weapon in the patent-litigator's armoury.
The move follows Apple's amended complaint about Samsung ripping off its designs, which was filed earlier this month. That amendment saw Apple dropping a couple of patent claims, but adding half a dozen more relating to the design and appearance of Samsung products (Trade Dress).
For those having trouble keeping up, Florian Mueller, of FOSS Patents, has created the usual, and useful, diagram showing who is accusing whom of infringing which patents, though he's still busy updating it with the ITC complaint: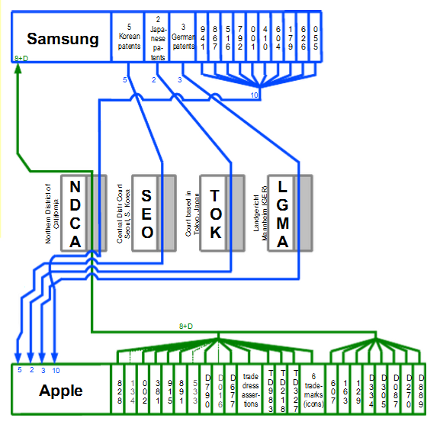 How it was last week, lots more details and updated diagram on the FOSS Patents blog
While this is all going on, Samsung continues to manufacture the chips used in Apple's mobile products, though the rumours are that Apple will be changing suppliers soon. That wouldn't be a big deal to Samsung; chip fabrication is very low margin and Samsung's aspirations go way beyond making bits for other companies.
Those aspirations stretch to Android and Bada smartphones, as well as tablets that bear more than a passing resemblance to Cupertino's offerings. Bada handsets have, so far, escaped Apple's attention, which is surprising, given how much the Bada (locked-down) business model resembles Apple's.
Samsung's ITC complaint is another swipe at Apple, though not a particularly big one. In these battles the strategy seems to be to keep chucking stuff at the opposing side in the hope that some of it sticks, and that you'll be the last one left chucking.
Apple and Samsung will both be chucking stuff for a good while yet. ®
COMMENTS
Don't trust Herr Meuller
He is (apparently) a paid shill in the pocket of those lovely people from Washington State.
His comments on this topic should be taken with a really big pich of salt.
..and they reckon...
...that irrespective of the validity of their filing, that a US Trade Commission is likely to find in favour of a Korean outfit and against a US ultra-success story?
I have to admire their confidence.
Maybe read the whole story first
This kicked off with Apple challenging Samsung for allegedly ripping off the overall look and feel of mobile phones, the Alto hasn't inspired any mobile that I can see.
Oh, and the Xerox PARC work that ultimately spawned X-Windows, GEM, MS Windows, Mac-OS and all the others was actually a continuation of work that had started at Stanford in the 1960s (PARC wasn't founded until 1970).
Conveniently ignored by many is the fact that Xerox bought Pre-IPO stock in Apple and sent engineers to help them build the original Macintosh OS, so it's ridiculous to suggest that Apple "ripped off" their work.
Indeed
Don't I recall some senator suggesting that the US government should not use any Lenovo products because, being manufactured in China, they may contain nasty James Bond style spying kit?
If a senator is daft enough to believe that then it's not too much of a stretch to believing that all that Chinese manufactured "american" hardware is also packed to the gills with bugs.
Wondered how long this would take.
Hope Apple get everything they are giving.
As for them being a US success story, they outsource most of the work to China don't they? Could paint that as somewhat traitorous, if you were into the black art of PR and spin.