Super Nova
But while the display looks great, it's not quite as sensitive as most of its rivals, sometimes requiring a few presses to register a command.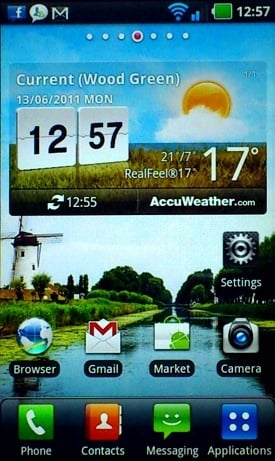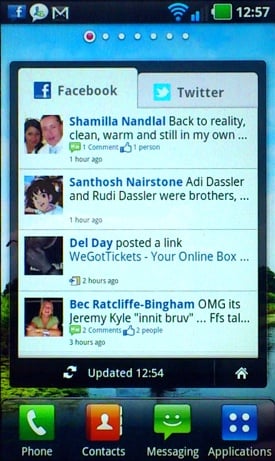 LG has dropped its own S-class UI on top of Android
The gesture button allows you control your phone with motion. When you press it, you can scroll through the seven home screens by tilting the handset. You can also tilt the phone up or down while browsing to scroll through a web page, and if you press it while viewing a picture, it will zoom in, and you can tilt to move your way around the picture. It's no more efficient that brushing your fingers across the screen, but a fun gimmick nonetheless.
The Black ships with Android 2.2 Froyo rather than the more up-to-date 2.3 Gingerbread, but you won't be missing too much while you wait for the inevitable upgrade. The latest version focuses on future-proofing, with support for SIP VoIP and NFC (Near Field Communication), both of which are really still waiting to take off.
LG's S-Class UI uses its own icons rather than Android's. They're neither better nor worse, but there are a few useful widgets, including Social Feed, which pulls together your social networking updates.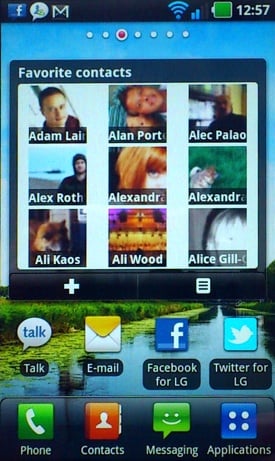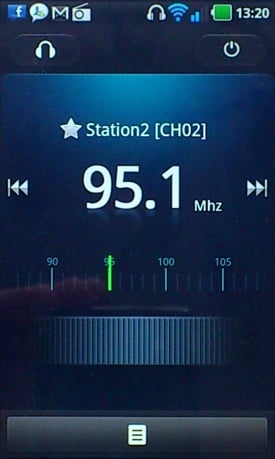 LG also offers its own keyboard designs, useful because they include handy keys like '@' and '.com' right up front. The apps menu can also be sorted into different categories to help you find your favourites.
COMMENTS
Slightly better than my £100 Orange San Francisco
Got to be worth the extra £300!
Maybe the Orange Monte Carlo (ZTE Skate) would be a better option?
Transformers
androids in disguise.
SanFran too
I totally agree. What's the point in paying £400 for a handset when a £90 San Francisco does almost exactly the same thing. £300 extra for a better camera? Okay what else? The extra processor power is useless unless I want to play games, which is a bit silly on an Android anyway. The screen on my SanFran is an 800x480 oled, already better than 90% of screens out there. So £300 extra for what?
I was going to ask a genuine question about that very thing ...
I have the £99 San Fran, it was a breeze to root and put gingerbread on it, so (here is the genuine question bit) what am I missing? A brighter screen? A better camera? I'm just not prepared to ever pay £400 for a phone (even £99 was a huge extravagance when there was nothing really wrong with my old Nokia Navigator) especially when my San Fran seems to do exactly the same thing as everyone elses massively expensive phones. I'm not a troll - just genuinely interested!
SIP not taken off?
"SIP VoIP ... still waiting to take off."
Hm, I guess if you don't use SIP (or perhaps more likely, don't realise when you or you place of work are using SIP) it may seem appropriate to describe it as still waiting to take off, in the same way that those who don't use Skype might describe it as still waiting to take off...
And if you want a choice of providers, who can provide free incoming POTS numbers, cheap POTS terminated calls, and the option of treating your mobile as just a regular extension on your (virtual) PBX, all using open standards, with open source clients and exchanges, then SIP would appear to be a *much* better option than Skype. The SIP client in Andriod 2.3. is quite nicely integrated with the dialler, and uses less battery than the Skype client. (My only grumble is that it does not currently play well with ekiga.net due to a difference in expectation about how to do NAT traversal, but sipdroid works fine.)