London Olympics shop in Union Jack outrage
Rebrands British standard, heads likely to roll
We suspect that whoever is responsible for outsourcing this particular London Olympics commemorative keyring to a Chinese manufacturer may shortly be dancing the Tyburn jig, once Her Maj Liz II gets wind of just what has happened to the Union Jack*: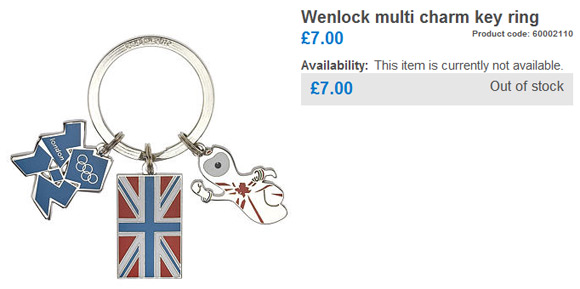 Mercifully, this trio of "computer-generated Smurf" Wenlock, Lisa Simpson administering oral pleasure and blue St George has apparently been removed from sale after the Reg reader who spotted the outrage protested vociferously to the Olympics e-outlet.
Let's face it, it's just a matter of time before the Daily Mail gets hold of this, and then Lord Coe will cop a righteous and well-deserved shoeing from the Twat-O-Tron owners of Middle England. ®
Bootnote
*Yes, we know that the term "Union Jack" is properly applied only when the flag is flying from a ship, but we don't give a monkey's, so keep it to yourselves.
Sponsored: Minds Mastering Machines - Call for papers now open