Nokia 'thinnest smartphone ever' slips out
Symbian Belle not the end?
While Nokia's impetus is clearly with Windows Phones, the company insists Symbian is far from kaput, a sentiment supported by the seeming leak of several fresh Symbian smartphones, with one described as the thinnest of its kind ever.
Snaps of another diddy smartphone, the Nokia N5, were upped by Excellular yesterday, showing off a touchscreen display, 5Mp camera and the latest Symbian OS, Anna - a system similar to MeeGo, apparently.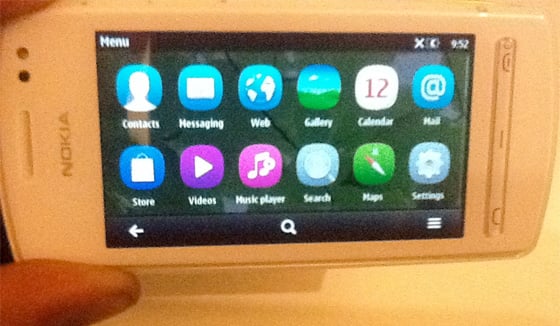 Nokia N5
Source: Excellular
Four further models have sprung up today, though, after Flashfly posted spy-style shots of apparent specification sheets and GSMArena went one step further by posting photographs of the Nokia 700.
According to the reports, the Nokia 700, or 'Zeta', will come with a 1GHz processor, 3.2in 360 x 640 OLED touchscreen, 5Mp camera and near-field comms (NFC) support. The handset is billed as "the thinnest smartphone ever" - it's 10mm thick - with a weight of about 80g. It will run on Symbian Belle, the successor to Anna, and will retail for €290 (£260).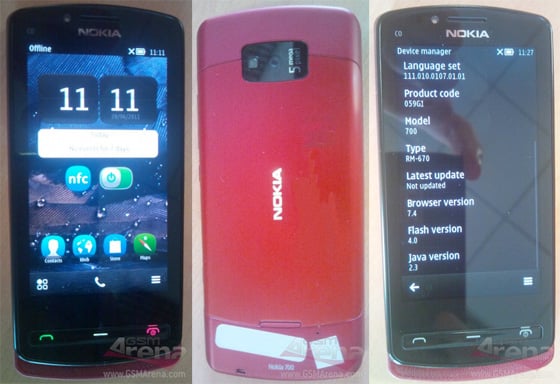 Capturing Zeta phones
The Nokia 701, or 'Helen', is also set for a 1GHz processor, although comes with a larger, 3.5in OLED touchscreen and an 8Mp camera. It should run Belle too and leave wallets roughly €300 (£270) lighter.
Next up is the Nokia 600, or 'Cindy', which boasts similar specs to the aforementioned Zeta, but has more focus on entertainment and social networking. It'll sell for roughly €260 (£234).
Last but not least is the budget-ish N500, aka 'Fate', which has a 1GHz processor, 3.2in touchscreen and 5Mp camera. It's predicted to cost less than €200 (£180).
All handsets are expected on shelves sometime in Q3. ®
COMMENTS
Thinnest? Really?!
At a reported 10mm, it's a definite also-ran. Both the Samsung Infuse 4G, Optimus Black, Samsung Galaxy S II and even the iPhone 4 are around 9mm. And NEC's Medias should weigh in at around 7.5mm.
Strange claim to make then. So, what did I miss?
But the thing is...
.... you still have to use a phone running Symbian. Having happily ditched my last Symbian phone for one running Android, I certainly wouldn't want to go back. I suspect others might think similarly.
You have to wonder about Nokia
They get to the point of releasing smart phones which are almost but not quite competing with other smart phone OSes. But then they shitcan everything and spend a year sending products to die, reporting huge losses and hoping Microsoft will pull their face from the fire.
Big catch
Assuming the prices are not the estimated carrier subsidised cost, the big catch is that the software is obsolete before you even buy it. It's a huge surprise that Nokia are releasing another Symbian phone, what's the chance that they'll support this phone for all 10 people who actually go ahead and purchase it?
Nokia getting in bed with Microsoft is the biggest fail of 2011 so far. They've basically given their market share to iOS and Android on a silver plate.
Thinnest....
Perhaps it would have been the thinnest ever smartphone back in the days when these kind of specs would have looked vaguely exciting?