Middle man: Dell expands on growth plans
Smart phones and tablets for biz
Enterprise systems and support are key to Dell's growth and profitability, but don't think that the company is going to abandon the PC business. Like HP and Fujitsu, Dell knows the PC is the foot in the door at many small and midsized businesses, and with more than two billion interactions with customers since its founding, it says it knows how to keep those customers happy as they grow and make them Dell IT shops as they do.
That said, Dell does have its eyes on other revenue and profit opportunities according to the CEO who presented the chart below.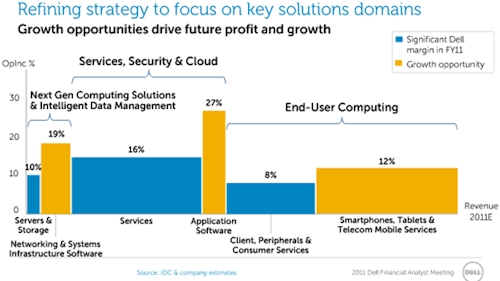 Dell's growth chart: revenue on the X axis, operating income on the Y
The next generation computing and intelligent data management bar is all of the stuff Dell wants to wrap around new servers and storage, including systems management software and appliances, modular data centers, networking and so on. As you can see, the revenue and profit potential here is considerably larger than Dell currently gets from servers and storage. Dell also thinks it can carve out a very profitable application software services business, running software on clouds for customers, and has its eye on selling smartphones, tablets, and related security and data services for them to enterprise customers.
But Dell is still very bullish on PCs, as it is on servers and storage. "The end of the PC era is over-hyped," said Jeff Clarke, who run's Dell's client business, in his presentation at the analyst day. As it is doing in servers, Dell's PC business is evolving from being strictly a hardware business to one that provides services for myriad kinds of devices. The chart below shows, how Dell sees the client business.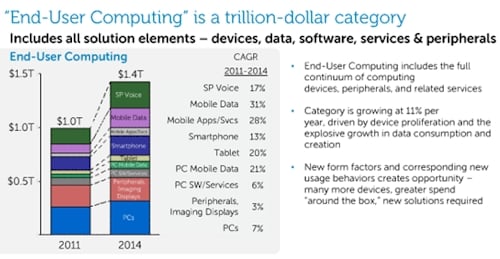 The client is no longer just the PC, in Dell's view
PCs may only rise at a compound annual growth of seven per cent between now and 2014, but that's still a $320bn addressable market – nothing to shake a stick at, and something to chase in emerging markets for sure. If you sell the desktop and notebook to an SMB shop in India, China, or Brazil, you'll probably sell the server if the PC isn't crap. Dell wants to sell smart phones and tablets to these customers, too. And perhaps more significantly, Dell expects 75 per cent of the revenue growth and 85 per cent of the unit growth opportunity for client devices of all types to come from emerging markets.
Clarke was not about to pre-announce products at the analyst day, and did not say what Dell's plans were for ARM-based notebooks, but he did concede "we're going to see ARM processors on notebooks, clamshells, or whatever you want to call them" right alongside devices using low-powered Core and Atom chips from Intel.
The issue, said Clarke, is that smart phones and tablets have trained us to expect a device to be always on, always connected, thin and light, with a day's worth of computing battery time.
As for Dell's plans for smart phones and tablets, Clarke merely said that Dell would be focusing more on integrating devices with services – such as data storage and security – that would appeal to its commercial customers and shy away from strictly consumer devices that have been launched by vendors to date.
That's an interesting idea, but it may turn out that companies will want something that looks a bit more consumer like from here on out. The app catalog is the computer, after all. ®
Sponsored: Minds Mastering Machines - Call for papers now open