Middle man: Dell expands on growth plans
Smart phones and tablets for biz
With Google and Facebook designing and building their own servers – Facebook is the poster child for Dell's Data Center Solutions custom server building operation – and with Rackspace not only buying whitebox servers but bragging about how they are getting more for their money, you might think the exec running Dell's server, storage, and networking business is sweating a bit.
That exec is former HPer Brad Anderson; Anderson, though, didn't seem perturbed by whitebox server makers or DIYers during the analyst event.
Anderson said the DCS unit was established four years ago to help hyperscale data center operators cram more computing and less power into less space to scale their naturally parallel Web workloads, and that this was a great business for Dell at the time. It was a particularly good move for Dell, as the company got in on the ground floor with a few dozen companies, supplying them millions of machines.
"That business has greatly evolved, and we are very much focused on solving a much bigger problem," explained Anderson. This includes designing data centers, building modular data centers, and doing other things to improve operational efficiency. "These are all things that whitebox server builders cannot do," he said, adding that "if somebody is purely focused on price, that's not a very profitable business."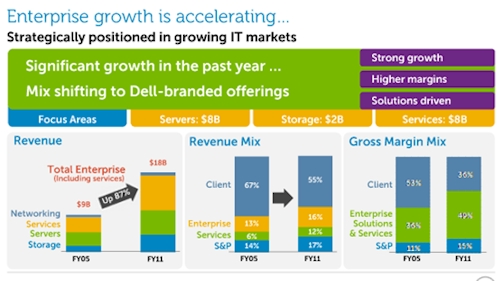 Dell says it's positioned for enterprise growth
While that is an interesting interpretation, a more plausible one is that very large customers who have very precise needs have figured out they can go straight to a contract manufacturer such as Quanta and get precisely the machines they need for their workloads at a lower price. If Facebook could get better machines at a lower price, it would have never have started the Open Compute Project. For several years before this project launched, DCS could act as a middleman between Facebook and Quanta.
Most customers in the world, and particularly those in the midrange, are not interested in building their own servers. So that's why Dell isn't sweating the whitebox makers and their effect on the DCS business.
Dell is very bullish on its server and networking business, which brought in revenues of $7.6bn in the fiscal 2011 year and has operating income above 10 per cent. Last fiscal year, Dell's server business grew 26 per cent, and margins were up 28 per cent. Dell has about a 22 per cent share of the global market for servers, and managed to take down an impressive 38 per cent in the US market. By contrast, Dell has about nine per cent of the storage market and about 2 per cent of the Layer 2/3 switching racket.
And while Dell plans to beef up its PowerEdge server, various storage, and PowerConnect networking businesses, don't think the company is going to build up a tightly integrated stack that requires customers to take all of the parts to get good performance and efficiency.
"While others are going back to the mainframe era, we are holding onto openness," said Anderson, who said that customers did not want to standardize on one kind of component, much less one infrastructure supplier. Dell will offer benefits to customers that take an all-Dell stack – predominantly financial and ease of integration, we presume – but will integrate with other companies' servers, switches and storage. Dell Services will even now offer tech support on non-Dell machinery.
Getting personal commercial with tablets and smart phones
Sponsored: Minds Mastering Machines - Call for papers now open