FEAR 3
Fright or flight?
Soul searching
Even more baffling is, that at the end of each section, your exploits will be graded on the game's score system, with the better player winning the 'favourite son' tag. Theoretically, this adds longevity to the game – not least because the ending differs depending on whether Point Man or Fettel are the dominant party – but even the rocket-blasting mech sections fail to elicit much desire to go through them a second time.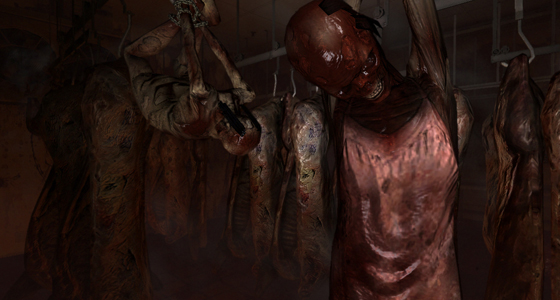 Nice to meat you
Other multiplayer sections do at least offer some kind of different experience, the best of which being 'Fucking Run!' which sees players dashing to the next checkpoint as an encroaching wall of death threatens to engulf them. It's tense and enjoyable – particularly when your team makes it by the skin of their teeth – and, while hardly enough to justify purchase on its own, could have made a cool download-only experience.
Other, less revolutionary modes of play include 'Contractions' where you'll fend off waves of enemies, 'Soul Survivor' which bids a corrupted player to pick off his allies and 'Soul King' where you collect souls from downed enemies.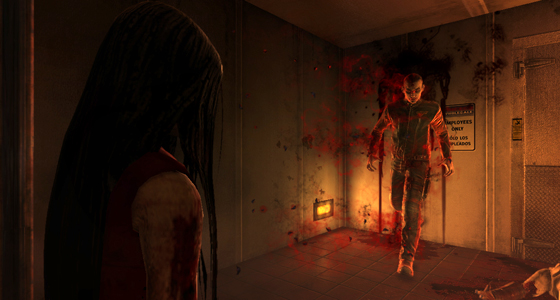 Watch your step
Verdict
If you just have to know how the fates of Point Man, Fettel and Alma pan out, then there's (just about) enough of a game here to warrant your time – particularly if you have a friend up for the challenge. Alas, if you are that invested in the story it might suggest you're also a fan of the previous games and FEAR 3 is so different from them that you might come away disappointed, regardless. If on the other hand, you are considering FEAR 3 as a series starting point then you'll be equally disenchanted by the lack of clear narrative and seen-it-all-before gameplay – scary stuff indeed. ®
More Games Reviews

Dungeon
Siege 3
Child of Eden
Alice: The
Madness Returns
Infamous 2
Duke Nukem
Forever
Sponsored: Minds Mastering Machines - Call for papers now open

FEAR 3
Hellish goings on meet the business end of a 12 gauge as Fear's psychological horror continues. Available on Xbox 360 (tested), PS3 and PC.