Samsung NC110 matte-screen netbook
Innovation, we've heard of it
Thanks for the memory - not
A fresh stick of Ram should be your first purchase but, irritatingly, there's only one SO-DIMM socket in the underside of the NC110. It's easily accessed, but upgrading the memory means either eBaying or binning a perfectly good stick of Ram or, even more annoyingly, engaging with eBay to get rid of it. Ordinary punters will probably just put up with an arguably underperforming machine.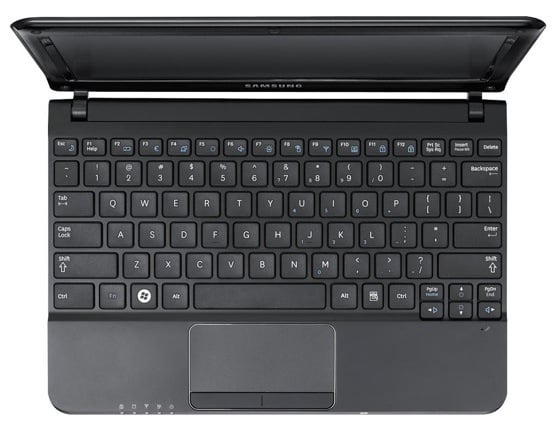 The small chiclet keyboard is pleasant for rattling out emails
The NC110 turned in a set of unsurprising results under testing: 1642 in PCMark Vantage Pro is roughly par for the course for an NC110 netbook, and compares favourably to Samsung's other recent machines - again, not a surprise given they share a basic specification.
Storage is provided by a mechanical, 250GB hard drive, and given the NC110's underwhelming performance an SSD should be near the top of your wishlist, although you'll have to unscrew and unclip the entire bottom plastic panel in order to access the existing disk. Still, 250GB is a decent amount of space, while one powered and two un-powered USB ports give options to those who need more.
The mechanical hard disk doesn't seem to hurt the NC110's battery life too much. The NC110's battery is an extended, six-cell block that barely disrupts the machine's smooth lines, other than providing the laptop's angled poise when on a flat desk.
Tasked with running PCMark Vantage until death, the NC110 soldiered on for an impressive four hours 46 minutes, while simply leaving it alone with the screen on and nothing else happening produced a lifespan of just over nine hours.