Panasonic DMR-BWT700 HDD and Blu-ray recorder combo
Unspoilt by progress
Indirect to disc
Unfortunately, you can't actually record directly to Blu-ray discs. Instead, shows have to be recorded to the hard drive first and then archived to Blu-ray later. Still, when you're archiving shows you have more control over the recording quality, as there are a variety of bit rates available to allow you to fit more content on a single disc.

The remote layout is easy to read and there's an iPhone app control option too
These options range from pretty acceptable trade offs of size versus quality, to really quite rough looking options that take up minimal space.
And while the BWT700 is generally quite quiet in operation, when it's burning shows to Blu-ray discs, the whirr from the drive becomes pretty noisy. Nevertheless, recorded discs seemed to play fine on a range of players including a PS3 and Sony BDP-S570, but unfortunately they didn't agree with a Samsung HT-BD1252, which refused to play them.
Naturally, the BWT700 can be used as a Blu-ray player as well as a recorder and it supports 3D Blu-ray discs too. The overall play back quality is generally excellent, and loading is fairly quick. For example, it took 59 seconds from putting X-Men Origins in the tray until it showed the Fox logo, which compares pretty favourable against most of today's players. The deck also has a 2D to 3D conversion feature, but while it's fun to try out, the results are generally mixed and not all that great. Personally, I doubt if this feature would get much use over the long term ownership.
On the media streaming front, I had expected the BWT700 to be pretty impressive, as Panasonic's latest TV's will work with pretty much any file format and connect to most Nas drives. However, that's sadly not the case with this model. It'll only stream JPEGs and AVCHD files across a network, but it flat out refused to connect to my Nas, even though I could select it in the player's menu. Things work out better when it comes to local storage, as the BWT700 played back HD MKV and Divx files without any problems, although folder navigation can be a bit of a nightmare.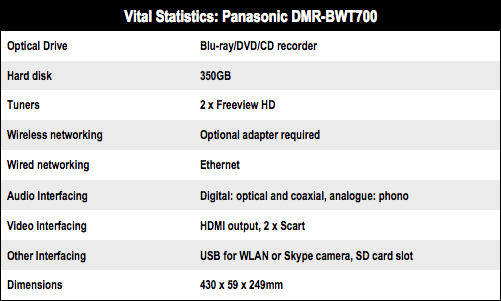 Sponsored: Minds Mastering Machines - Call for papers now open