Dungeon Siege III
Crawl through the clichés
The line is drawn
Dungeon Siege III is very linear. I didn't have much choice about which areas I visited in which order, but I got rewarded for poking about enough to stumble across some goodies. Just like World of Warcraft, I have several quests going on at the same time but can choose which I want to complete first. Pressing R to follow the yellow-dot breadcrumbs to the active quest saved me a lot of time.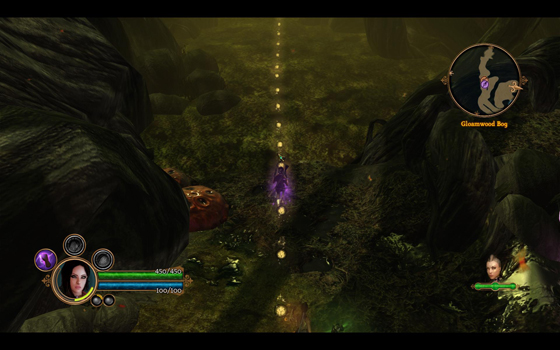 Follow the yellow dot road
The cut scenes are too long, though they do embellish the narrative, such as it is. I have to admit to skipping some of the especially bad dialogue. There's way too much of it in this game. Unlike the dialogue in LA Noire, the story's not good enough to make you wait around.
Dungeon Siege III has a lot of loot. Who doesn't like loot? Not only could I pick up treasure for myself but for other characters too in co-op mode. Trading it to friends will definitely improve your chances and it was easy to identify which piece of equipment belonged to which character.
Apart from gold drops there are four classes of loot: white for common items, green items are uncommon, and blue are rare. There are also Artifacts, which only pop up in special locations. But the amount of treasure couldn't make up for the fact that I often felt like I was raiding an overflowing rubbish bin as none of it really felt that special and it hardly felt worthwhile pressing a key to collect such junk.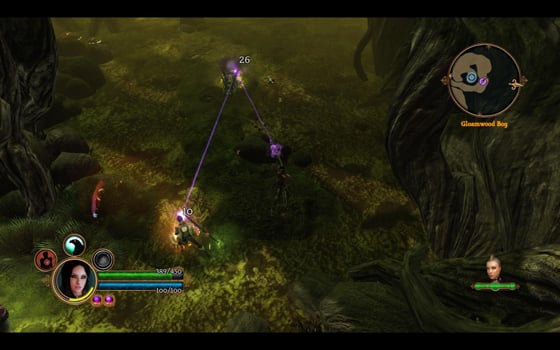 Team purple
Verdict
There is no denying this game has fun combat, but where developer Obsidian really dropped the ball is the multiplayer mode, which gives you almost no control - all the characters have to stay on the same screen at once - leaving feeling like your very much along for the ride rather than an active participant. You can't even import your own character or export any of your loot.
If a noob brought this for my birthday, I wouldn't be too ungrateful - after all, I always wore that tasteless lingerie my ex bought me. In short, Dungeon Siege III is a bit pants. ®
More Games Reviews

Child of Eden
Alice: The
Madness Returns
Infamous 2
Duke Nukem
Forever
Red Faction:
Armageddon

Dungeon Siege III
Dated crawler that doesn't meet its RPG potential. Available on PC (tested) PS3 and Xbox 360.