Dungeon Siege III
Crawl through the clichés
Choose your shoes
Dungeon Siege III starts by giving me a choice of four characters. Of course, I chose Katarina with the guns. Who wouldn't want to be a hot chick descended from a witch and a legion commander, and whose specialties are warfare and magic? Shall I break out the bullets or the black hound? Trouble is, that's my limit. Customisation here is minimal at best.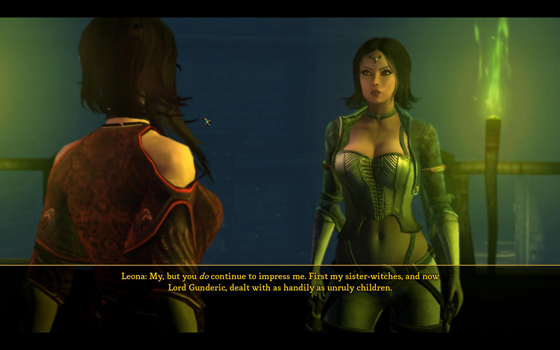 Red and green should always be seen
Each character is vastly different in style, attacks and equipment. Firstly, there is Anjali - this chick is basically all about torching those baddies or sticking them with her spear. Then Lucas Montbarron, all chop-chop, hack-and-slash swordsmanship. And finally Reinhart Manx who combines logic with mage skills and some nifty traps. You always work as a team with one of the other characters as an AI - and not a very bright one, at that - over whom you have no control apart from picking their abilities.
The combat is very action focused, and I spent at lot of time dodging swordsmen and tiny white spiders so I could keep out of range. I always pulled out my pistols when confronted by multiple opponents. In pistols mode, I could summon and attack with my mutt. My first block ability, confusingly accessed by the space bar (jump, jump) gave Katarina health regeneration. Controls on the PC are generally poorly thought out, I should say - a sign that it's a console port, or what?
Even though the combat is the best thing about this game and is, admittedly, fun, it's not up there with the latest RPGs, like those listed above.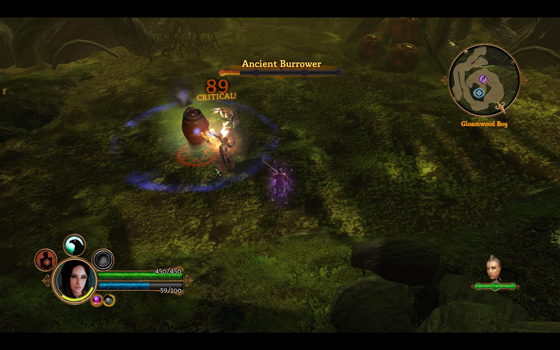 Am I being too critical?
Leveling up, I got points towards purchasing proficiencies, talents, and with points for putting into your abilities for stronger attacks, draining my enemies' attacks and buffing my health. Unfortunately, I felt that all the characters would become generic by the end of their narrative because there was a talent twig rather than a talent tree. I was impressed at how my character's armor upgrades all looked detailed and this is followed through to the end of the game where I had taken on a whole new visual persona.