America demands definition of fourth generation
I did not have a 4G connection with that woman
A bill before the US congress will require mobile operators to state which technology they're providing, and how fast it is, as well as formally defining what's meant by "4G".
The "Next Generation Wireless Disclosure Act" has been proposed by Anna Eshoo (rep for California's 14th District), and calls on network operators to publish their minimum speed, reliability and content management policies, as well as the technology they've chosen to use for their network - pushing T-Mobile and AT&T's networks back into the third generation.
The first generation was analogue, so it's quite easy to spot the 2G networks (which are digital). With 3G things get a little more complicated, with EDGE slipping into the definition but still called 2G by most people. However, the US networks have been playing fast and loose with the definition of "4G", applying it to HSPA technology that everyone else agrees is third generation at best.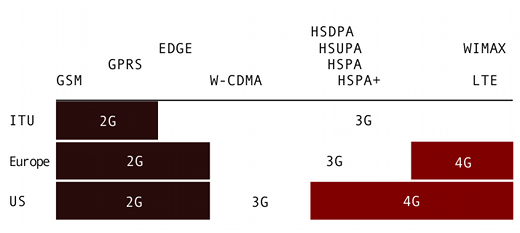 Who says what is what, but not why
The ITU now accepts that WiMAX and LTE can be called "4G". Engineers can still be heard to mutter that neither is really fast enough to warrant a generational shift, but most of the world now recognises that LTE is the 4G standard of choice, and that's the stance taken by the new act.
But it's not just the underlying technology that Anna Eshoo wants published in the small print on every customer's bill. The bill (PDF, shorter and easier to read than expected) also asks that the FCC establish minimum speeds and reliability statistics for every operator, which that operator will be obliged to publish. Not only that but operator policies on content optimisation, and any content control, will also have to be shared.
Visibility is to be welcomed, and making everyone publish their policies seems to make sense, as does defining the term "4G". But one can't help feeling the act faces an uphill battle in getting the FCC to monitor operators, given the likely challenges to the impartiality of any such process.
Either way, the bill is now before the House Energy & Commerce Committee so we'll see what the rest of Congress makes of it. ®