Sega celebrates two decades of Sonic the Hedgehog
Spiky mascot blows out the candles
Sonic the Hedgehog is twenty years old today, raise your glasses and salute.
Sega introduced Sonic in the early nineties to rival Nintendo's cash-cow Mario and improve sales of the company's waning console, the Mega Drive.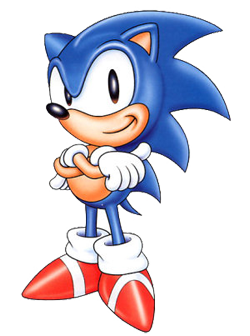 Until Sonic hit the scene, Alex Kidd was top bill at Sega and let's face it, despite appearing in an array of fantastic platformers, Kidd was never going to reach the heights of those charismatic plumber brothers.
After several returns to the drawing board, Sega finally settled on a blue hedgehog as Kidd's successor. Initially codenamed Mr. Needlemouse, the team began developing what would soon become the classic game Sonic the Hedgehog.
While Mario was all about pipes and shrooms, Sonic was a speed head, rushing through levels to save his furry friends from the vengeance of Dr. Robotnik.
Released 20 years ago today, the game was a huge success and helped Sega claw back a foothold in the videogame market.
Since then, Sonic has featured in dozens of games. When Sega entered the new millennium as a third party software developer, the spiky mascot even started to appear alongside his old rival Mario in titles for Nintendo consoles.
The Sonic franchise lives on today. His 30th outing, Sonic Generations, was on show at E3 this year and hits shelves this October.
I still remember my Sonic days like it was yesterday. Up, up, down, down, right, left, right, left, start. I was a cheating little eight-year-old. Happy Birthday Sonic.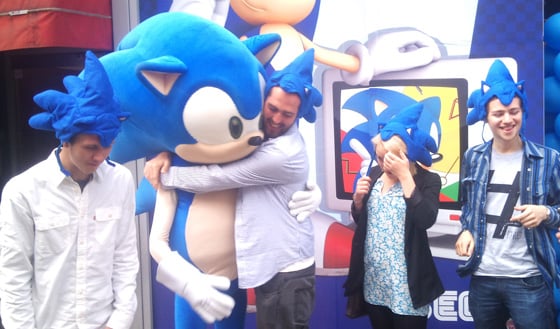 Fans give Sonic a hug at Game on Oxford Street
To celebrate, Game is hosting an anniversary party from today until Saturday. Get down to the London Oxford Street store for your chance to win a PlayStation 3, a copy of the forthcoming game, and a couple of gift vouchers. To enter, have a go on the demo for Sonic Generations, which was released today. You'll be put into a draw for the prizes and if you get down early enough, given a sonic hat, poster and figurine. I've already got mine. ®
COMMENTS
20 years since he started
And 10 since his games were any good.
Aye to that.
And it's been less than a year since his games were good again.
Those 3D Sonic games only aggravated my fear of heights, if anything. Forget 3D, 2D platformers rocked and still rocks.
No...
Mario was an Itallian plumber, who could admittedly, fly.
Sonic was the sort of guy that you'd see cruising round the M25 looking for a rave. He could have been your mate, at least until the Es wore off in the morning...
Not that there were two influences on my life at the time...
Cheats
No C and that was to enable debug mode.
up down left right hold down button a press start was level select.
UDLR is still how I remember left/right when my brain fails.