Tritton AX Pro 5.1-channel gaming headphones
Four speakers per cup, anyone?
Review Gaming headset outfit Tritton may not be a household name, but you can expect its profile to grow in the UK now that Mad Catz is handling the brand. The peripherals giant picked up the specialist headphone maker a year ago, pledging to bring this distinctive marque to a wider audience.
As a consequence, it's giving a fresh push to Tritton's range-topping £150 AX Pro, one of the few genuine Dolby Digital 5.1 headsets available for console gamers.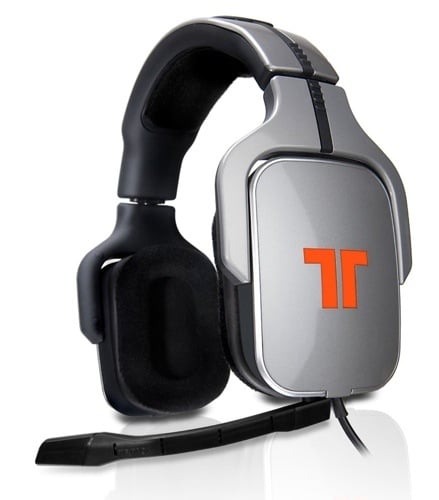 Tritton's AX Pro: top-of-the-range gaming audio?
What makes the AX Pro interesting, both from gaming and home entertainment perspectives, is that each earcup conceals four separate drivers. One is assigned to the centre channel, another to the front channel and a third to the surrounds. Low-frequency effects are delivered by a larger, fourth speaker. The idea is basically to cram a downsized sub/sat system into each ear.
The AX Pro can be used with either the Xbox 360 or PlayStation 3. Set up is straightforward for both. I used an Xbox 360, running a digital optical audio lead into the small decoder module, which in turn feeds the headphones with surround sound. The cable length is 4m. Once the kit was powered up, I was swiftly engulfed in audio. A bendy mic can be snapped in and out as you need it.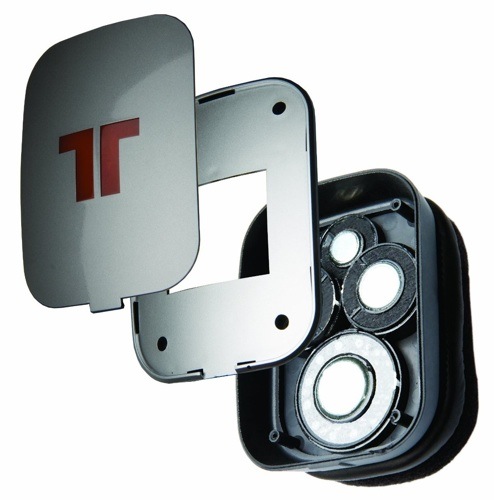 One cup, four drivers
The 'phones themselves are substantial. Build quality is high but you'll not forget you're wearing them in a hurry. The standard earpads and headrail are firm and felty. If you'd prefer something a little softer, cushiony alternatives – plus a pad removal tool – are included in the box.
COMMENTS
multiple drivers unnecessary for headphones
I can see the point in having a separate bass driver but here's a little insight, humans only have two ears.
The reason why two speaker DSP based surround systems for your TV aren't as good as proper multi-speaker setups is because you can't ensure that each ear hears exactly what you want. With headphones it's a given so DSP based surround should be perfect.
I also can't see that placing drivers slightly forward or backward on an earpad is going to make the listener believe they are hearing sounds from infront or behind. Therefore is these headphones are producing a surround effect, which the review says they are, they must also be using some kind of DSP processing.
tritton headphone support....
Im full aware these are for xbox or ps3. Not bad headphones. But I would never buy a tritton product ever again as the company does not bother about supporting its products.. I have some axpc headphones. Great they are. Infact better than great. Then windows 7 came along. Wheres the driver ? Oh we are working on it. It never came. A 100 quidsworth of headphones in the bin.....Thanks a bundle tritton.
These headphones MIGHT and could be the best gaming 5.1 headphones in the world, but without proper support, you may be throwing 150 quid in the bin.
DSP > multiple drivers
I spent a good while researching before buying a gaming headset recently and most informed places (headfi.org and AVScience forums) tend to agree that the cheaper Tritton AX720s with their DSP-based surround are in fact better:
http://www.amazon.co.uk/Tritton-AX-Headset-Digital-Surround/dp/B002ZS6Y64/ref=sr_1_1?ie=UTF8&qid=1308829451&sr=8-1
There's fairly universal criticism for the Turtle Beach equivalents being too flimsy.
I have the 720s and they're great.
Shameless blog plug here but I wrote a post about Dolby Heaphone and I included some sound clips with it enabled for comparison. You can try it with normal headphones here:
http://pcloadletter.co.uk/2011/04/05/5-1-channel-audio-through-headphones/
Did I fire six titles or only five?
An interesting but rather basic review, if you're suggesting these are okay for gaming how do they compare to other multi channel headphones around, such as the Razer Barracuda? Just because in B:BC2 the water sounded watery and firefights intense, a good pair of 3D headphones should allow you to pinpoint the location of sounds 360° around you quickly for that 'He must be cheating!' response!
Based on this sparse review there is no way I'd go and risk my valuable beer tokens on these, surely you must have someone on the El Reg FPS-frag-fest desk willing to conduct an exhaustive review?
re:weight
They aren't that heavy at all...can easily have a days gaming without any neck strain.