MeeGo and the Great Betrayal Myths of tech history
Twitter fanbois demand resurrection of burned-out platform
Schisms in the Church of Unix™
Linux comes with its own betrayal myth, for quite different reasons.
Unlike say the Amiga, or OS/2 or BeOS, it's seen as a political movement rather than just a neat bit of technology. This means there's a moral dimension to the evangelism. So it inevitably attracts some noisy people who are naturally disposed to Being Right, And Morally Superior.
Some of us might use Linux because (say) Ubuntu is (or was) faster and more reliable on a cheapo ULV-processor laptop than any version of Windows. Using it is not a statement of identity or political beliefs.
Alternative diets and currencies provide a similar attraction here - it isn't unusual for someone to embrace several.
Eventually being vindicated becomes more important than Winning or pleasing your users, and it becomes an end in itself. Unix has always provided an umbrella for this kind of evangelist, a place where people can subdivide into endlessly squabbling factions.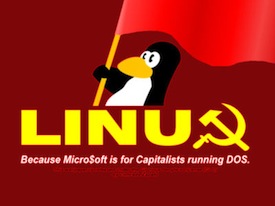 The Linux Betrayal Myth is usually deployed pre-emptively. Linux would take over the world if it only wasn't for false consciousness of Windows - just wait and see, next year there'll be a billion or a trillion desktops.
Why MeeGo isn't coming back
MeeGo isn't going to return because Nokia can't, on its own, persuade media companies and developers to back it. That's all Elop means by "ecosystem" - markets of content, and developers. Most analysts are doubtful the Microsoft-Nokia combination will even be able to squeeze home into third place, let alone fourth. And if Android (as I expect) forks, those runners-up places in the market will be taken by flavours of Android.
By the end of the year, Nomura predicts, Nokia will be the third largest mobile phone company in the world, with (still) the weakest smartphone portfolio. Be realistic: that's not going to attract developers en masse.
The petition has overnight amassed 734 Twittering signatories. That's 25 an hour.
It must only be a matter of time. You must be worried, Mr Elop... ®
Sponsored: Minds Mastering Machines - Call for papers now open