Alice: The Madness Returns
Jabberwonky?
Animation like 'woah'
But never mind the art, though - it's the animation that really sent shivers down my spine. Alice's contortionist extravaganza of jumping, shrinking, twisting and twirling double- and triple-jumps through the demons of her sub-conscious is a nod to where the development money behind this game has been spent.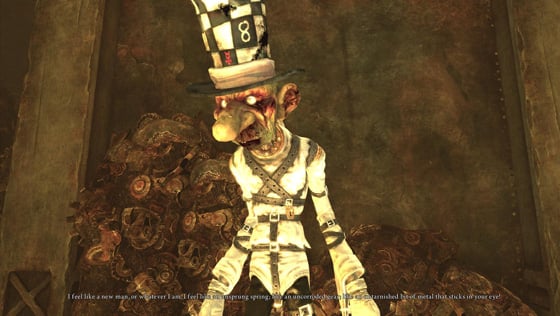 What did they put in his tea?
I especially liked the drinking and shrinking aspect of the game where I could inspect objects not visible to my larger characters' eye but watch out as this leaves you defenseless. One small quibble with this aspect of this game is that when you shrink the camera angles can feel a bit confined and the game loses some of its scope. The voice acting and writing are extremely high quality and add to, for a change, rather than detract from the sinister feel of the game.
Madness Returns is your standard action platformer, all jump-jump, fight-fight interspersed with puzzles and games. Think God of War mixed with Sonic the Hedgehog. Alice's paranoia is manifested as many strange creatures and enemies, such as the Ruins, which come across all oil-slick manga babyface chic. Luckily they are easily dispatched with my trusty Vorpal blade or the rather nice addition of my own personal pepper grinder, if only my targeting system worked and it didn't over heat!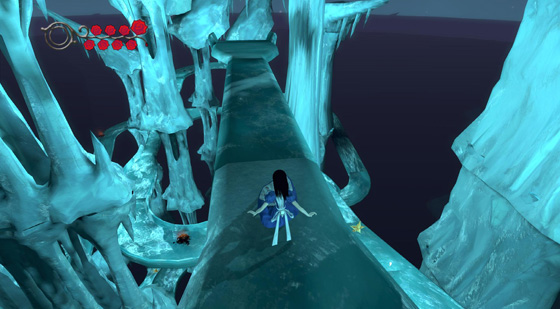 I slide with my little ice
Other nifty weapons include a Teapot Cannon and a Hobby Horse head hammer. These weapons with the right amount of teeth - the game's currency - can be upgraded to make them more powerful. I also found myself collecting shards of Alice's memory, vials of paint and pig snouts which filled out my inventory. All the better to do away with those pesky Madcaps, Eyepots and the odd Executioner.