Platform power
The game is split into several chapters, and there is plenty to look at with each world being very different from the others. It is just such a shame this differentiation isn't applied to the gameplay, as each level tends to play the same as the last, but this criticism could really be applied to most platformers.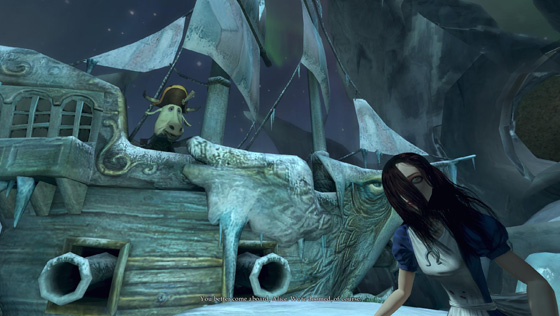 When the ship goes down
In the Deluded Depths, deep underwater I spent time fighting ice snarks and a drowned sailor while trying to make my way to the drowned city of Barrel Bottom. Then I was transported to an Oriental Grove where origami ant-like villagers are harassed by samurai wasps.
The puzzles in this game often centre on flicking switches and triggering floor panels with precise timing. I particularity enjoyed the Zen garden puzzle, re-arranging blocks to create a Japanese water colour painting. Once you recreate the picture, Alice enters the painting to fight some dragonheads in a 2D platformer. Oh, how very NES of you, Spicy Horse.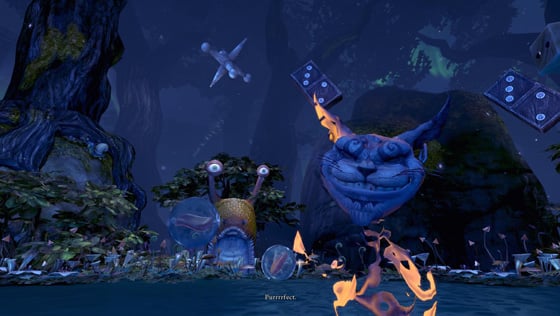 Slugs, snails and pussy cat tails
Where this game gets really exciting is when low health takes you into hysteria mode. This black and white rampage has me acting like a complete loon and luckily not taking any damage.
COMMENTS
The title is required, and must contain letters and/or digits.
Hehehe
Come now - if I was a young'un I wouldn't be bothered 'cos I'd just be getting it off bittorrent.
I've been gaming since the early 80's on nearly every platform that's been in existence, and to me - 15 Hours just isn't that long. Hell - you could make Chuckie Egg last more than 15 hours!!
Sniffing glue on tabs of acid.
Now that would be a wicked trip..... Judging by some of the screenshots I think that the Acid Tabs must have been handed out freely within the design department.
Imagine trying to play this game on Acid.......
Turn on, tune in, drop out.
[How unfortunate my Dr Leary coat has just gone and melted into a porcupine revelation]
Not for me, but...
...at least you won't get comment after comment, after comment moaning about how you didn't test it on a PC and that you tested it on <insert console name here> and it's inferior to PC graphics.
I'll doff my cap to you,
as I could barely get through 15 minutes of Chuckie Egg!
Chances are that there'll be a BBFC rating on the box,
so you won't be able to buy it.