Formula 1
Petrolhead paradise
Android App of the Week If you're not a fan or motor sport and specifically that cavalcade of howling V8s, prima donna drivers, politics and general lunacy that is Formula 1 then this weeks app is not for you.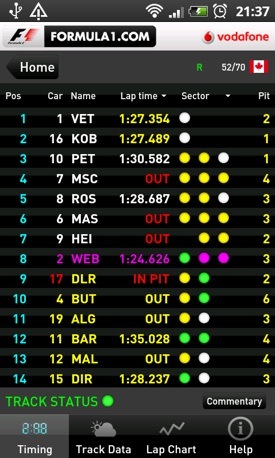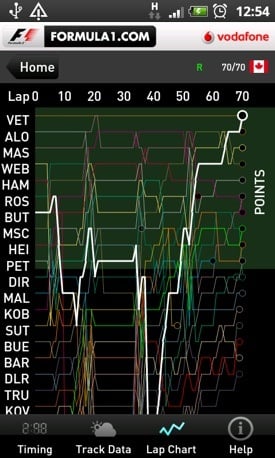 View the chaos on the pit lane (left) while you track the laps (right)
If you are, the Formula1.com app relays live FIA track and race information directly to your phone in real time, giving you access to the same data that Messrs Brundle and Coulthard get in their commentary box.
In previous seasons this may not have been such a big deal, but with the 2011 Pirelli tyres causing an avalanche of pit stops in some races, this app keeps you bang up to date with who is on the track, who is in the pits and who is wrapped around the Armco.
Because the data is sent from the transponders fitted to each car, there is no confusion over which Ferrari driver is in the pits and which is in the gravel trap - or is it Timo Glock in a similarly coloured Virgin car?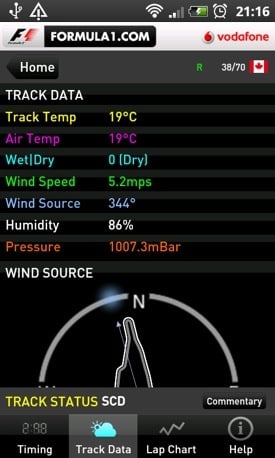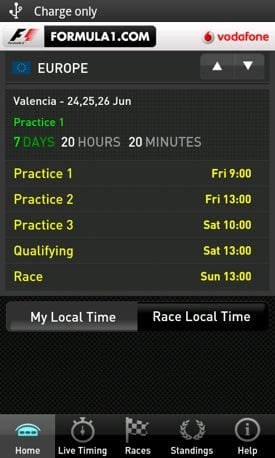 Get race track details (left) and see what's coming up next (right)
There is also an interesting screen that charts each driver's progress up and down the field during the race. As a graphical representation of Jenson Button's path from sixth to last to first - like JB's drive in Canada - it takes some beating.
COMMENTS
It's bloody good I tell thee
As per title
So you're...
...one of the dicks that seems to arbitrarily downvote perfectly reasonable posts. Shouldn't you be hanging round an Apple story with the rest of them?
Live timing on www.formula1.com preferable...
Having both an Android phone with the official F1 app installed and a Linux netbook with the Java-based live timing app loaded from www.formula1.com using Firefox, the latter is the clear winner.
This is mainly because the "large" window on the Java timing app contains everything I need to see neatly in one screen, whereas the Android app, by necessity, is cramped and involves you constantly switching screens to find the info you need.
Even with my 8.9" netbook screen, a quick F11 for full screen allows the large Java window to fit perfectly and I just glance occasionally at it whilst watching the race without having to press any key/screen at all. The *only* reason I'd ever use the Android app is if I couldn't see the race on TV and I didn't have my netbook with me, which would be highly frustrating (and unlikely) on both counts anyway!
Trivia point: Has anyone noticed that the BBC F1 coverage on Freeview (SD or HD) is often 5-6 seconds behind the formula1.com live timing? Very noticeable in free practice and qualifying where you can compare the TV's session countdown clock with the one on the live timing. It does mean I can shout out fastest laps and pit stops before they get mentioned on TV though :-)
If only...
...this had some way of giving David Coulthard an electric shock when I pressed a button on the screen. That way, every time he pronounced Nick Heidfeld's name incorrectly, I could reach for the lightening bolt and send a few volts up his jacksy... that would wipe the smug smile off his face (to be fair, I'd be even more smug if I was him and had achieved as much as he had and was as rich as he is).
There could also be buttons that do unpleasant things to Eddie Jordan and that bloke with the iPad whenever they talk bollocks.
In all seriousness, though, after reading this review I think I'm gonna download this one. Thanks for the recommendation, El Reg.
asdf
not interesting? have you even seen any F1 this century?