World+dog yawn over NFC smartphone shopping
Apple, Google trusted more than bank cards
Although the technorati may be salivating over the brave new tap-to-buy smartphone world, a new survey has discovered that only one in five smartphone owners could give a rat's patootie about "mobile wallets".
"Unfortunately for mobile wallet providers," concludes a study by the shopping site Retrevo, "the overwhelming majority (79%) of consumers in this study, are either not interested in mobile wallets or don't know what a mobile wallet is."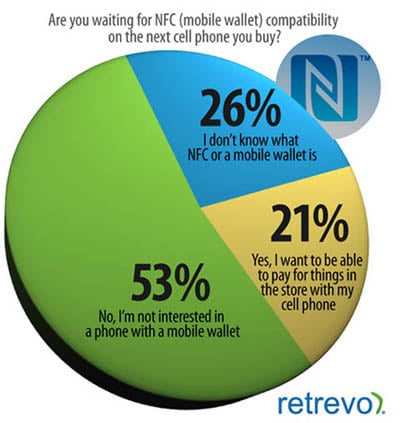 What if you provided The Next Big Thing, and nobody cared?
Near-field communication (NFC) payments have been coming Real Soon Now™ for some time, and the hype has recently been heating up. Operators in the UK are gearing up for it, Google and Citigroup are teaming up to soon introduce Mountain View's Google Wallet, RIM's BlackBerry Bold 9900 and 9930 includes NFC hardware, and Android 2.3 is inching towards full NFC support.
In addition, conflicting rumors have said that Apple will and won't include NFC in the iPhone 5. Some rumblings have also said that it Jobs & Co. do turn the iPhone into a mobile wallet, they'll provide their own back end. After all, that new mega–data center can't just be for iCloud, hmm?
But few of the 1,000 smartphone users surveyed in the Retrevo "Pulse" study seem to care. "This Pulse study indicates that not everyone is convinced that mobile wallets are the next big thing and the long list of potential providers will have their work cut out for them to win over consumers," they conclude.
Among that long list of potential providers, the most trusted aren't credit card services such as MasterCard, Visa, or American Express, nor wireless providers such as AT&T or Verizon. The smartphone owners that Retrevo surveyed trust Google and Apple to provide the mobile wallet service.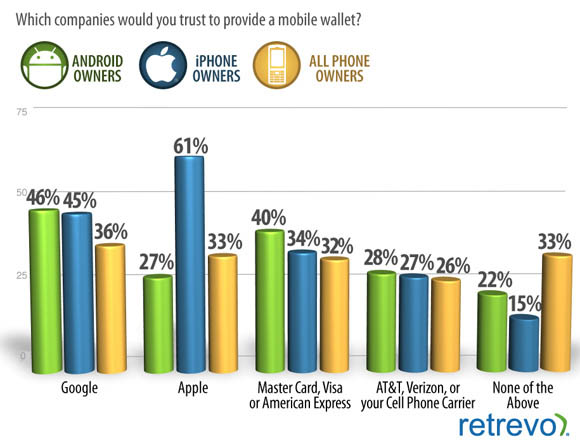 Android-phone owners don't appear to have all that positive an opinion of Apple
But as Google moves into the mobile-wallet world, and as Apple contemplates doing so – or not – they shouldn't feel too comfy about their advantage over other portential providers. "The Retrevo study found nearly half of those not interested in mobile wallets saying they wouldn't trust any of the companies that we suggested, to provide a mobile wallet," the survey results say.
Men should be easier to win over than women, according to Retrevo. Twenty-seven per cent of them say they'd be interested in tap-to-buy shopping, while women, at 15 per cent, are more chary.
As might have been predicted, the younger the survey respondent, the more interested he or she was in smartphone-enabled purchases. Twenty-eight per cent of 18-to-35-year-olds had a "much stronger interest" than respondents over 50 – 75 per cent of whom had no interest whatsoever in the service.
What with hackers breaking into major systems seemingly every day – Sony, Sega, Acer, the US Senate – Retrevo also suggests, in what must be considered as the understatement of the week: "Mobile wallet providers will likely have to address consumer's concerns about security."
Although, it does appear that they'll need to convince iPhone users least of all. Possibly the heavy hand of Cupertinian control-freakery does have a calming effect. ®
Sponsored: Minds Mastering Machines - Call for papers now open